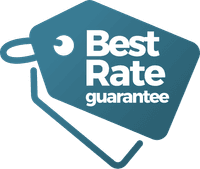 We guarantee our rates. If within 24 hours of reserving with us you find on another website belonging to a different online travel agency a lower rate for the same trip you reserved, we offer to match the total price of your reservation. For more information visit our FAQ's page
Don't Miss Out on Lower Rates!
Want to get even more out of your stay? Become a La Colección member and receive exclusive deals, discounts and perks, specially designed to enhance your vacation.
Fiesta Americana Mérida
Uncover the Ideal Mérida, Yucatán Destination
Fiesta Americana Mérida is a majestic hotel presiding at the intersection of the two more prestigious avenues in Mérida, Yucatán: Paseo Montejo and Avenue Colon. Guests arriving at the hotel are greeted by grand Porfirian-style architecture framing an exquisitely decorated lobby featuring cool Yucatán marble, massive windows and sitting areas where you can relax and enjoy the tranquil ambiance and natural light. Gorgeous interiors complemented by personalized service, state-of-the-art technology and modern luxury ensure a truly pleasurable stay.
An icon of the "White City," a gathering place for Mérida's society elite and a sought-after destination for vacationers, groups and business travelers alike, Fiesta Americana Mérida is without a doubt one of the finest hotels in Mérida and Mexico.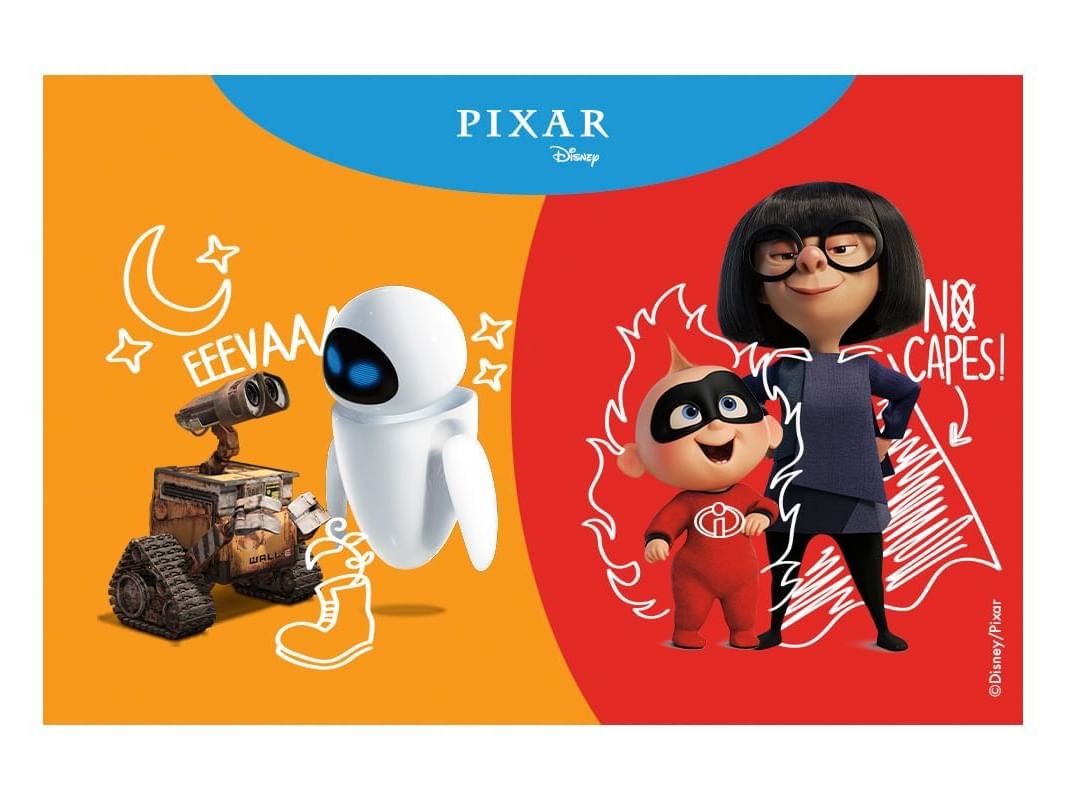 Inspired by Disney & Pixar
An adventure for the entire family, where augmented reality and special nights in your room, like Movie Night, will take you all to the fantastic world of Pixar movies and their beloved characters.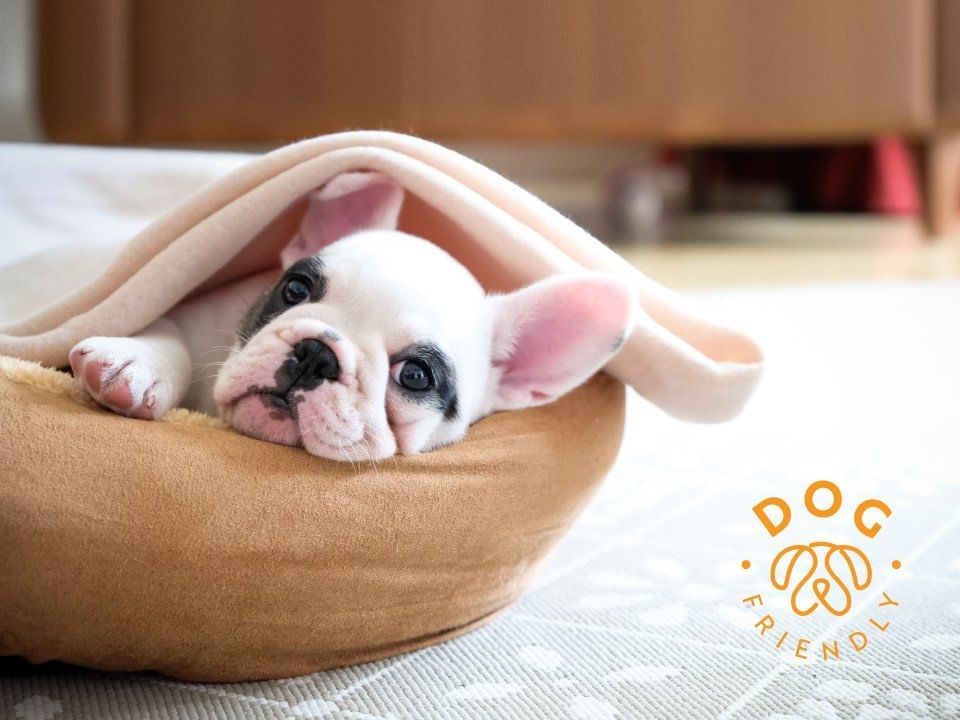 Dog Friendly
Your best friend deserves to travel with you, and discover amazing places together. Find this unique experience with our Dog Friendly, where we'll welcome your pup and pamper him upon arrival with a special kit, which includes a bed and bowls for him to enjoy throughout his stay.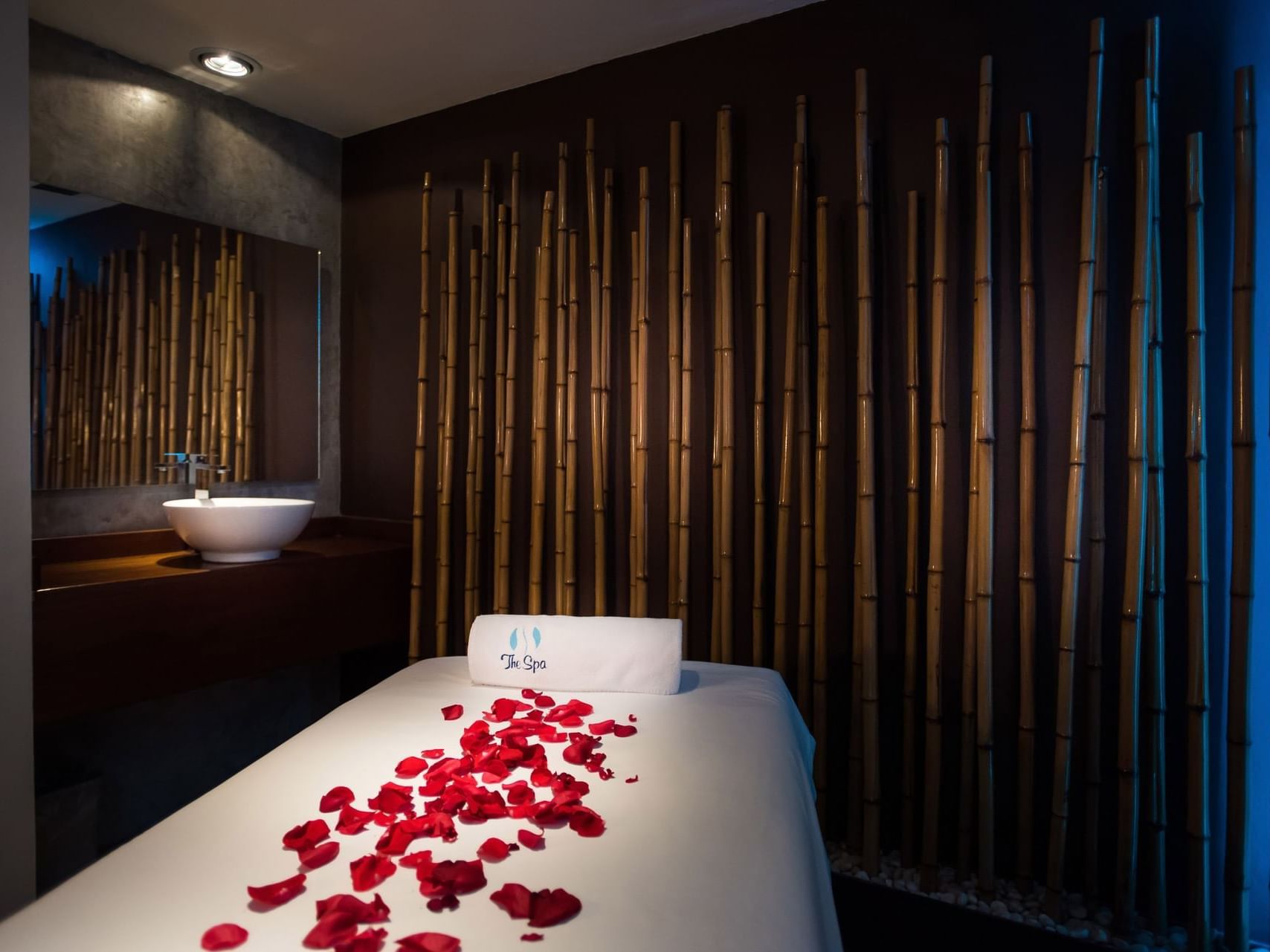 Yaakun Spa
Escape the intense activities of the day and find your own space to be in peace at Yaakun Spa. Relax and let yourself be carried away by our expert therapists who will find the right treatment to renew you from head to toe.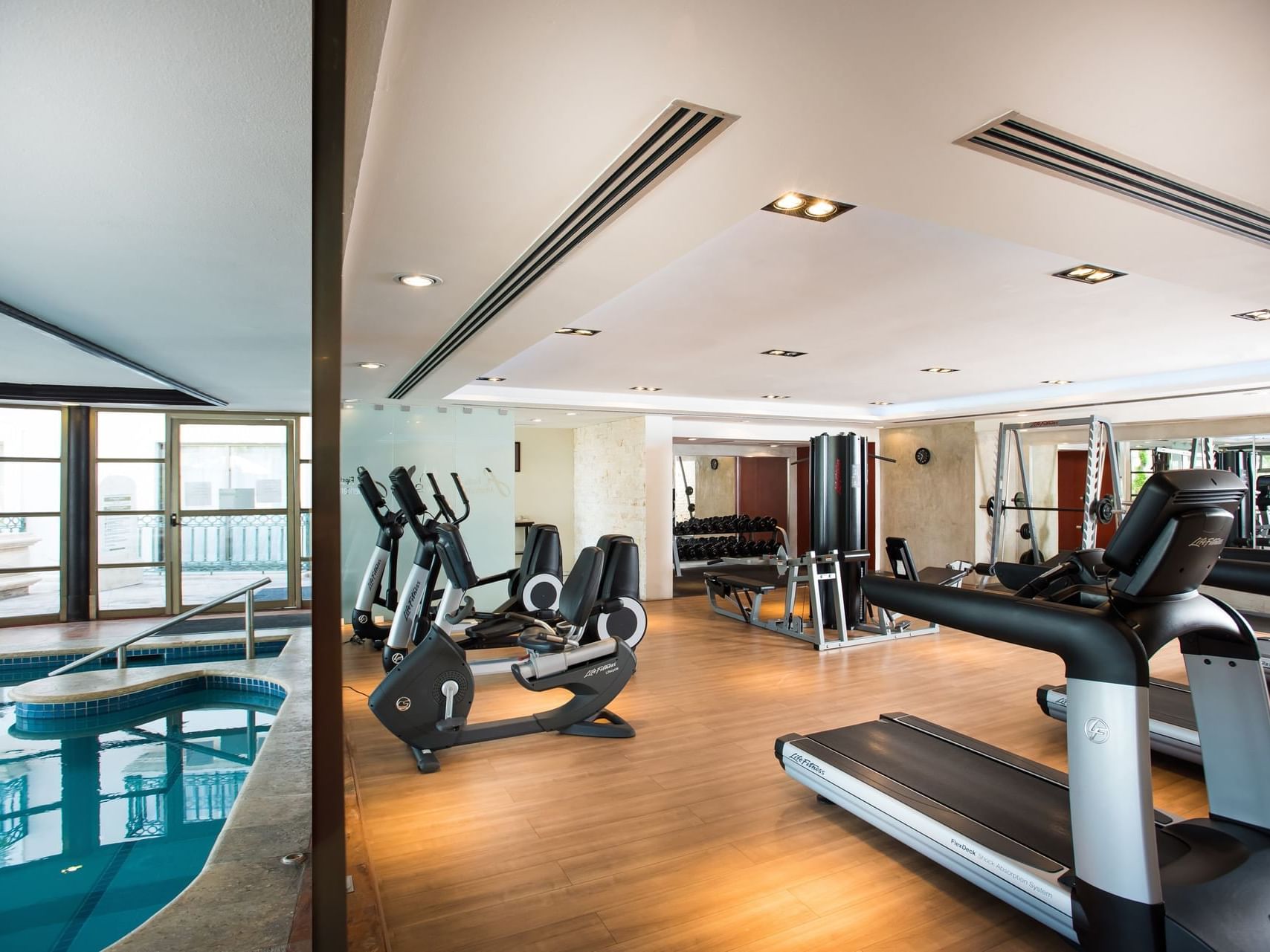 Newly Renovated Fitness Center
Work out in the modern facilities of our gym. We know how important it is for you to stay in shape. Therefore, in our modern gym you will find the necessary equipment to exercise comfortably and enjoy your routines in a pleasant environment.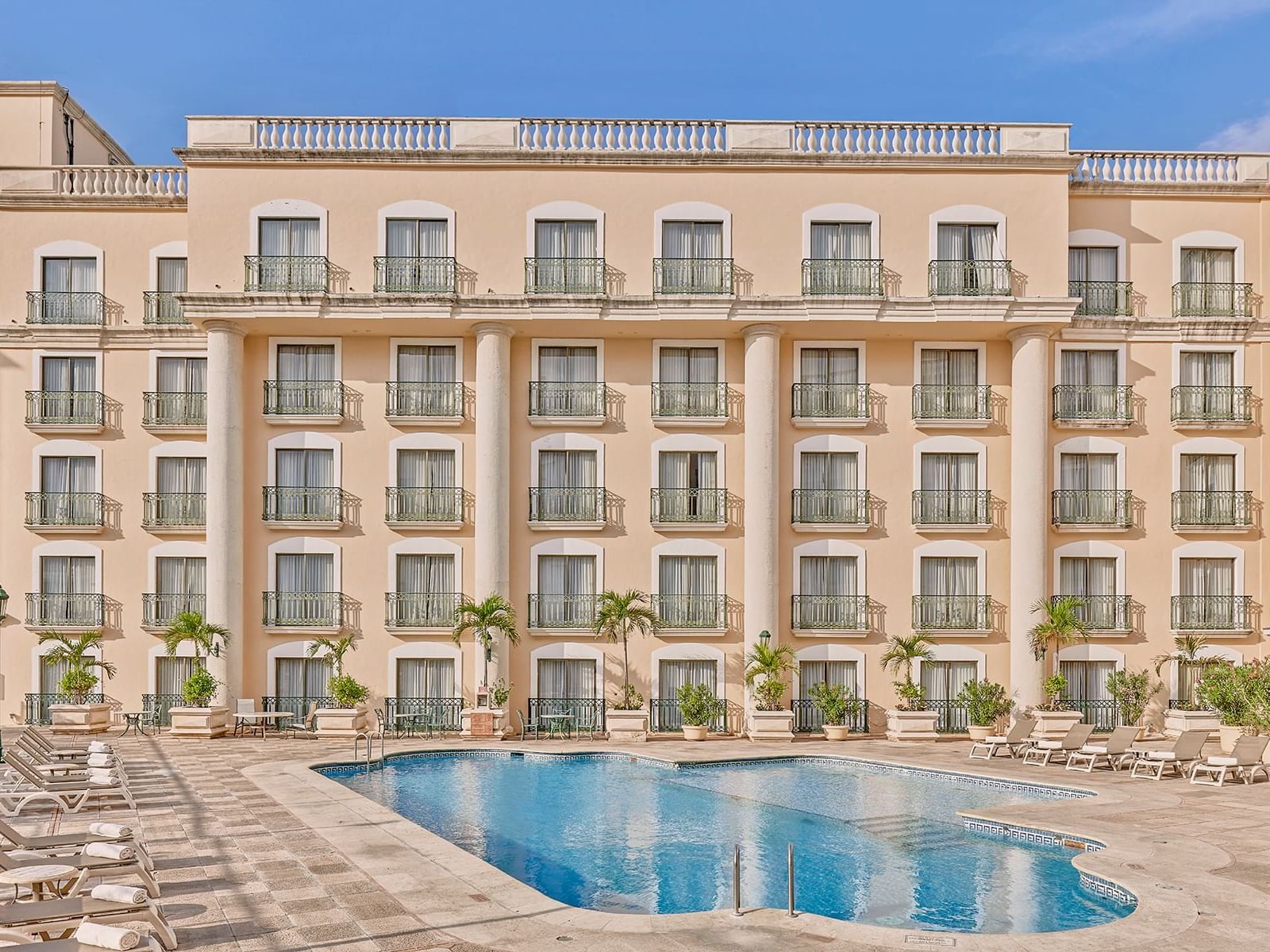 Swimming pool
In the pool you can sunbathe or have a pleasant relaxing time. In our pool area you can relax accompanied by your favorite drink or a snack.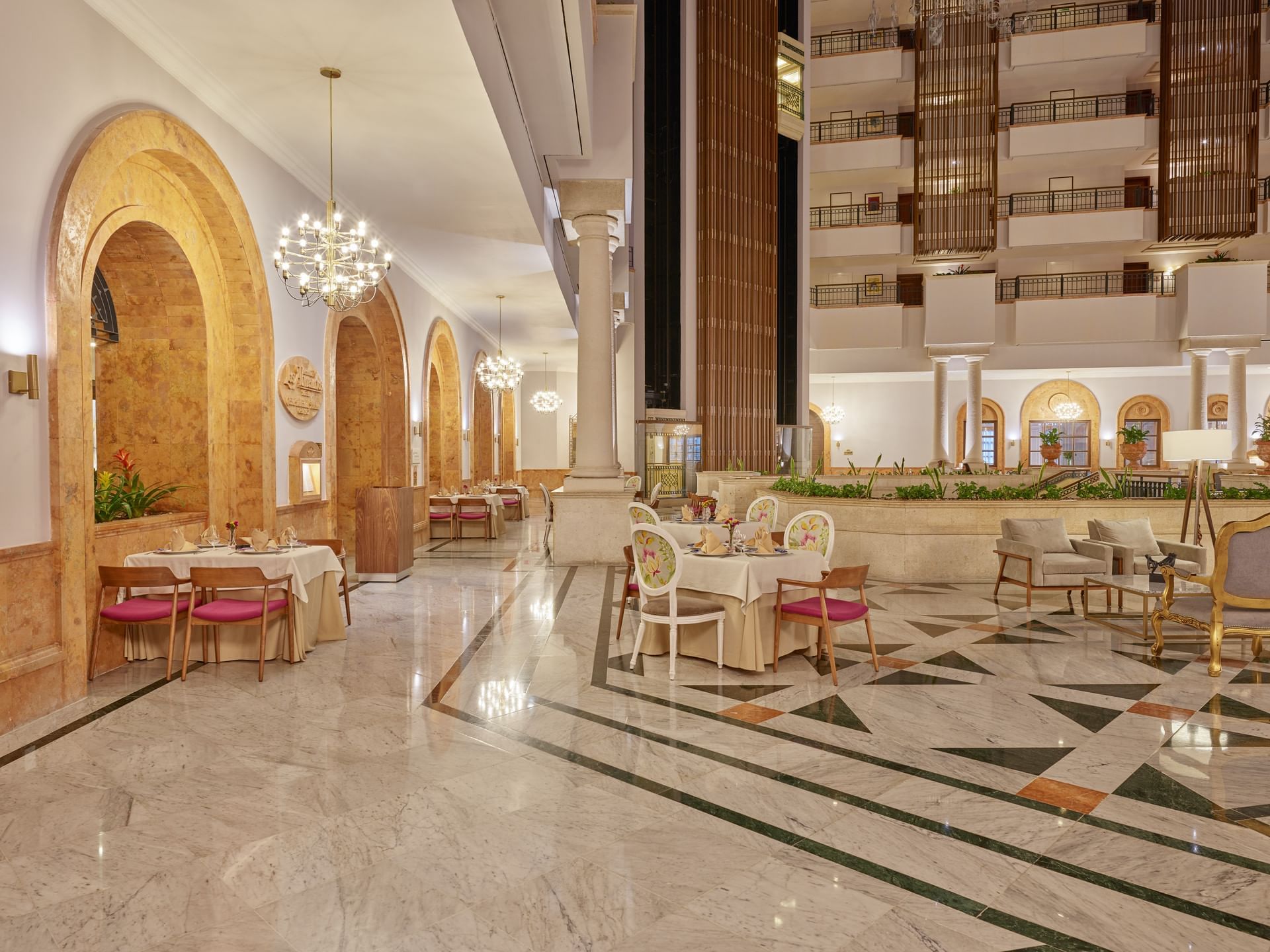 Free Wi-Fi
We offer free internet Wi-Fi in all rooms, meeting rooms and public areas.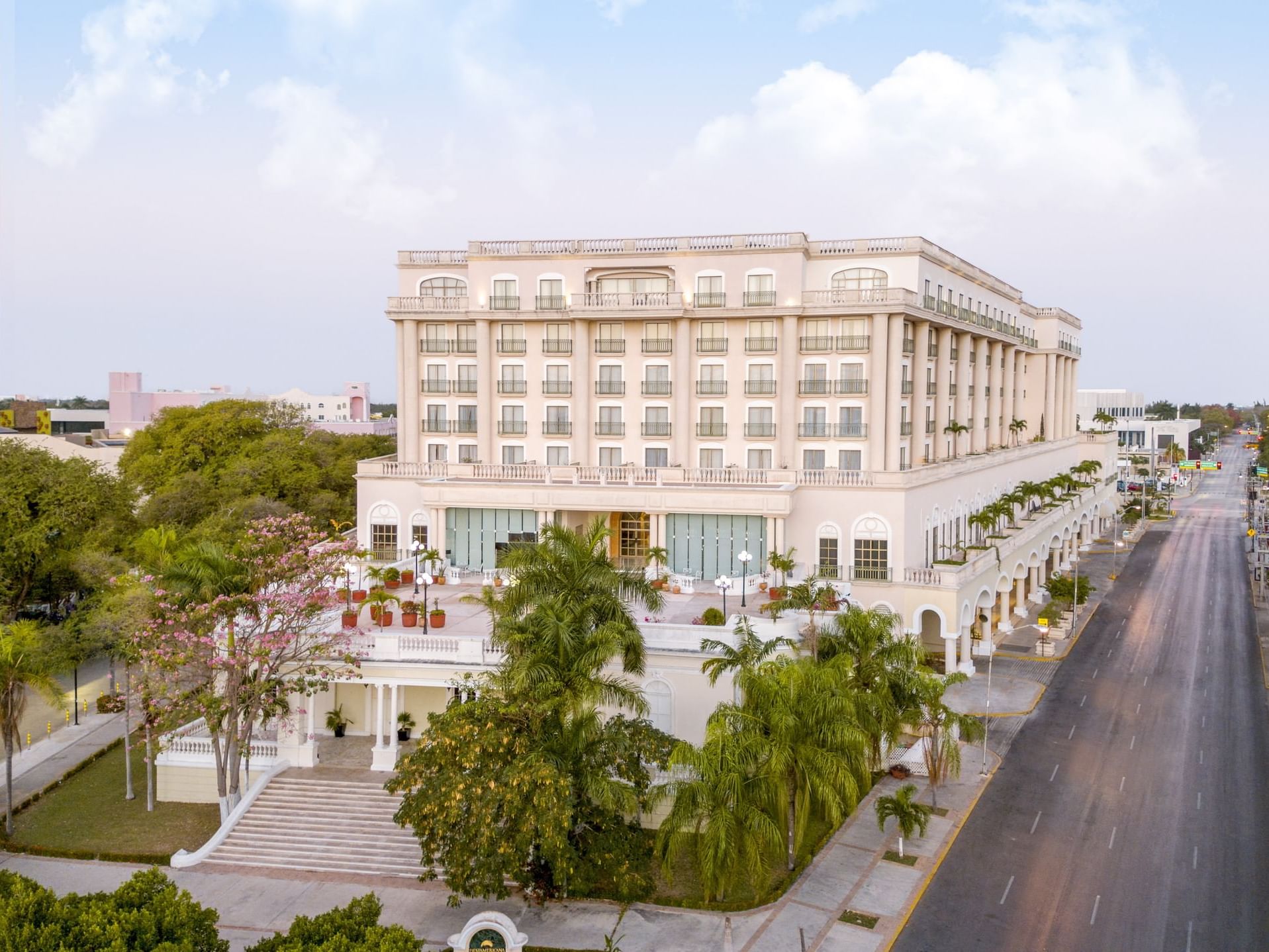 Indoor Parking
Guests enjoy indoor parking.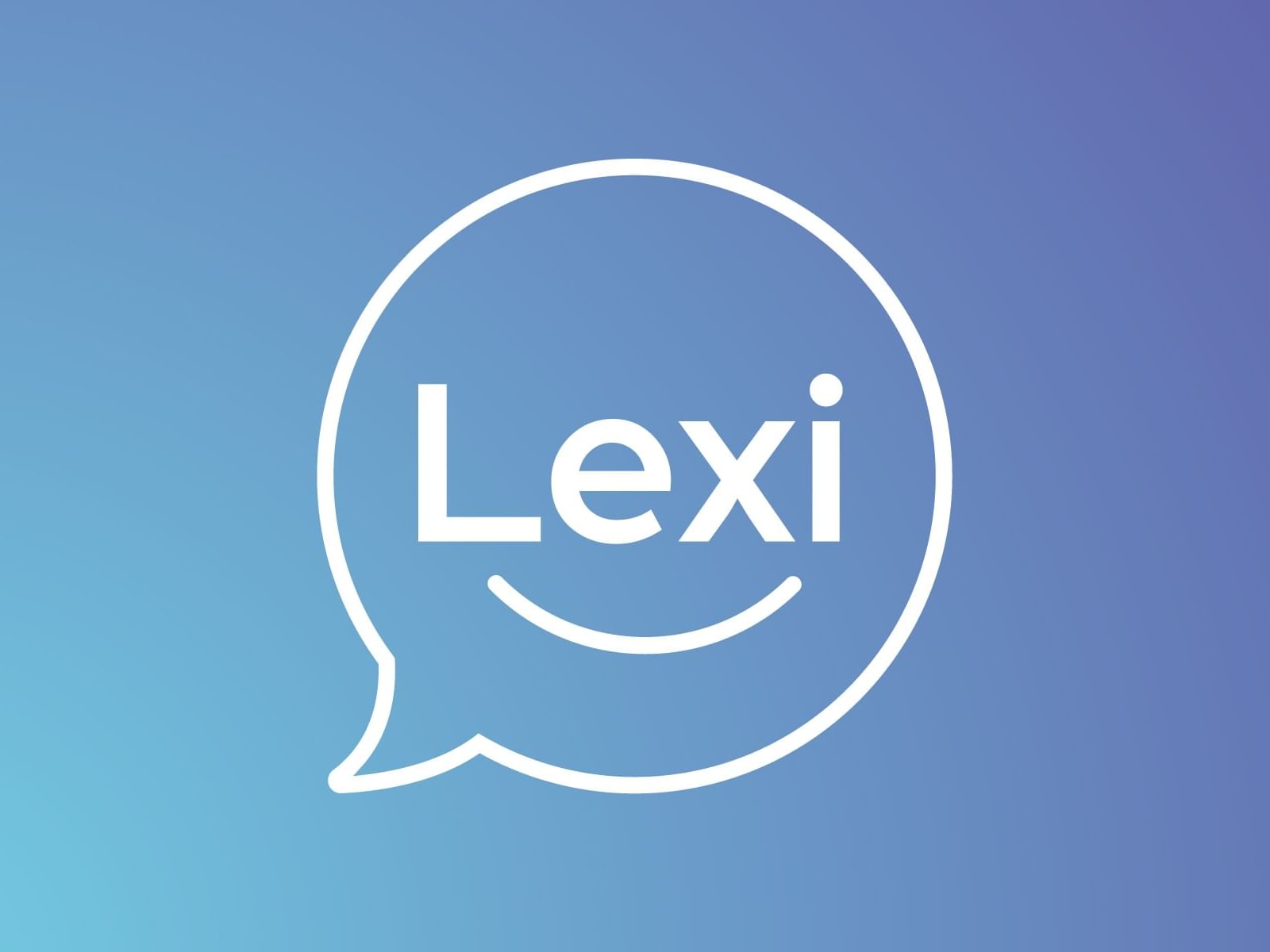 Digital concierge
Hi!, I'm Lexi
Your digital concierge, I'm ready to support you in whatever you need, such as attending your requests, clarifying your questions and most importantly, making your stay unique.
Get to know me and discover everything I can do for you.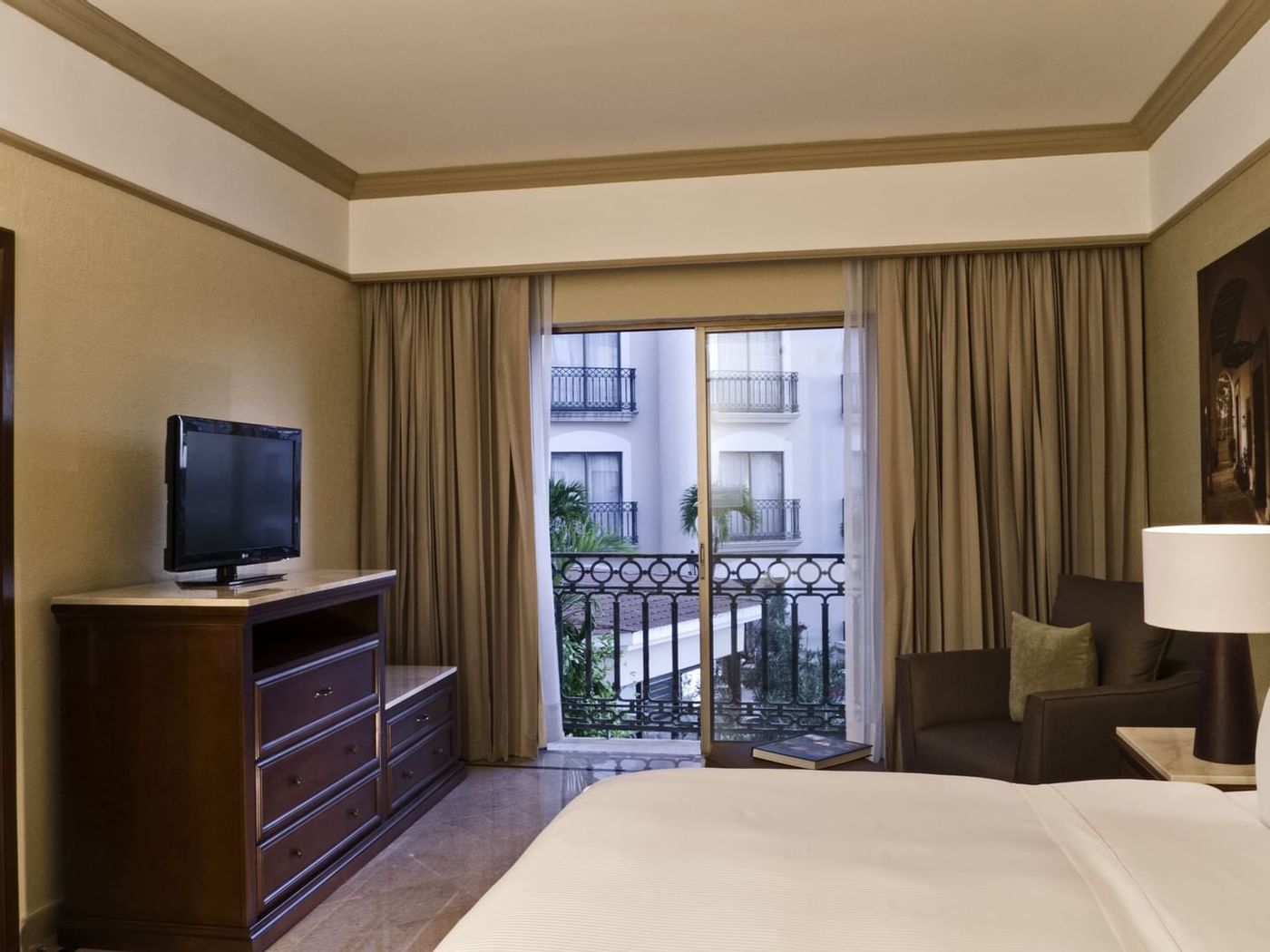 Rest & Relax
Superior Room, 1 King
USD 155.00/night
2 adults

King Bed

421 ft2
These comfortable rooms feature one king bed or two double beds and a balcony with spectacular city views.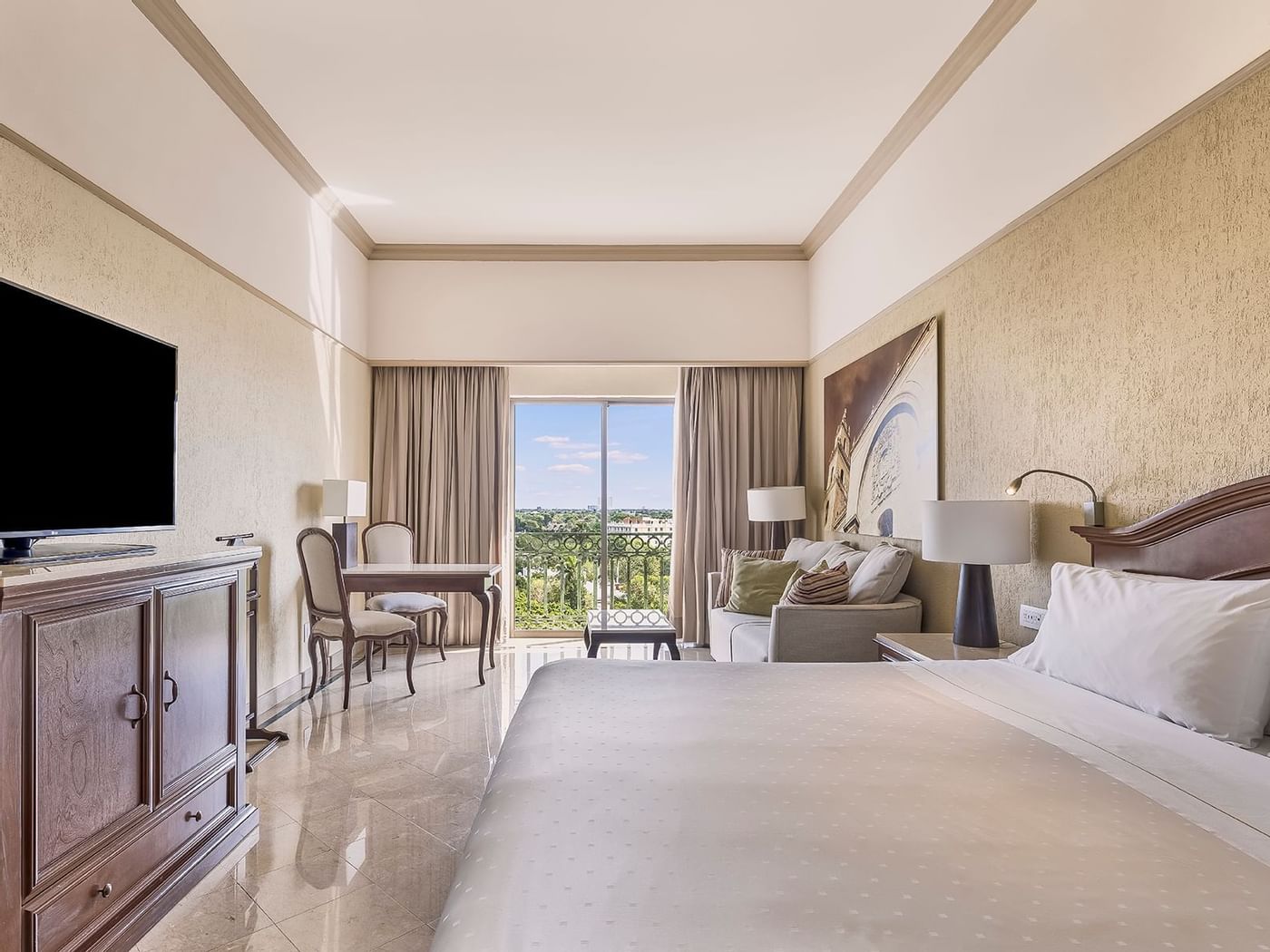 Rest & Relax
Fiesta Club, 1 King
USD 194.20/night
2 adults

King Bed

435 ft2
Luxury and simplicity combine to create a relaxing sanctuary, decorated with fine Yucatan marble and calming shades of green and white.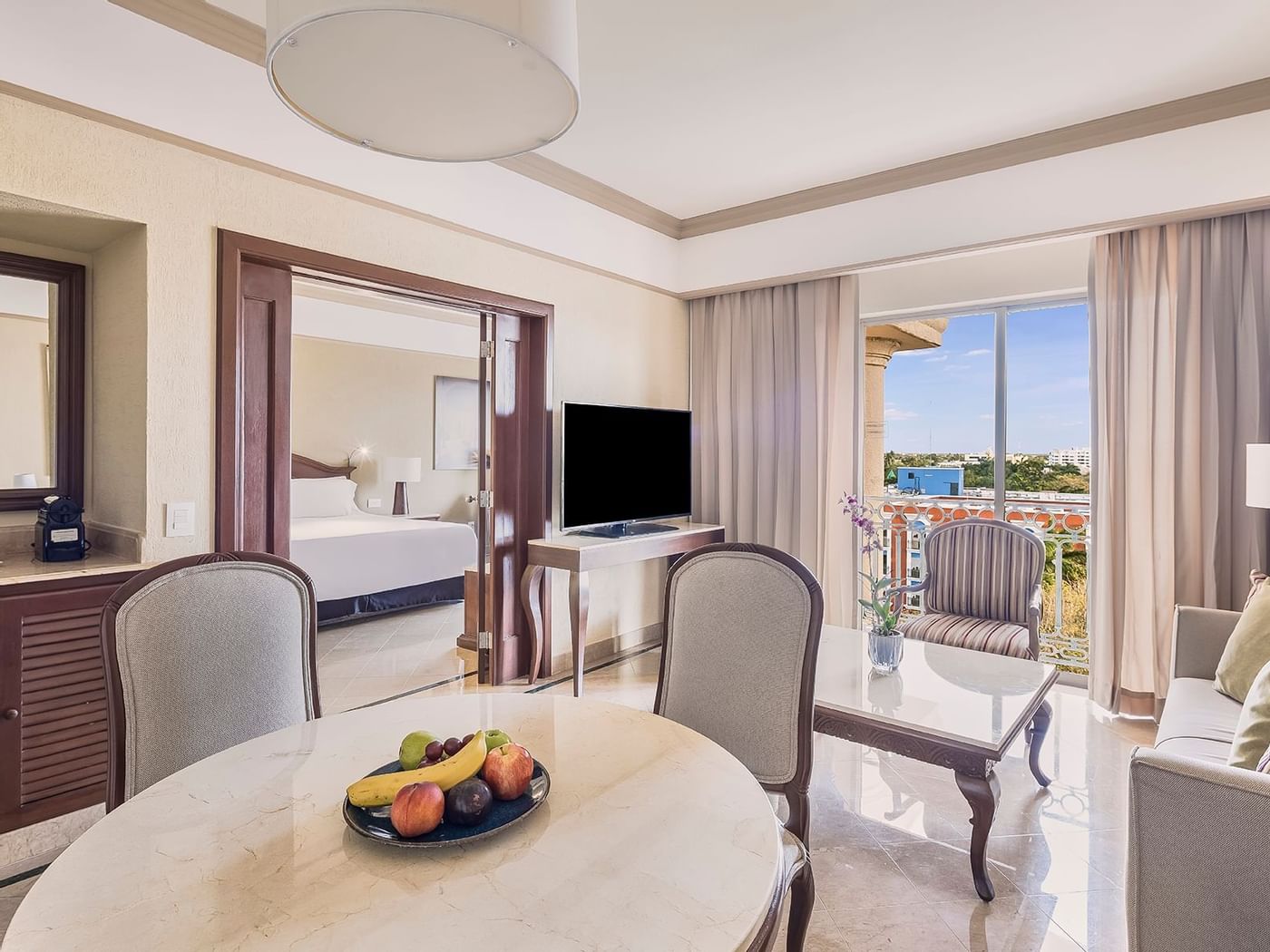 Rest & Relax
Junior Suite, 1 King
USD 237.40/night
2 adults

King Bed

1015 ft2
These luxurious suites have a private bedroom with king size bed and sitting room with entertainment center.

Cocktails & Cuisine
Café Montejo
Local & International
Inspired by local Yucatán design and décor, Montejo Café Restaurant delights the palate with regional and international cuisine. Each weekend, our exclusive brunch is the talk of Merida, and the seafood feast each Friday is a wonderful way to relax after a long week. Enjoy our daily buffet breakfast, lunch or a la carte dinner menu.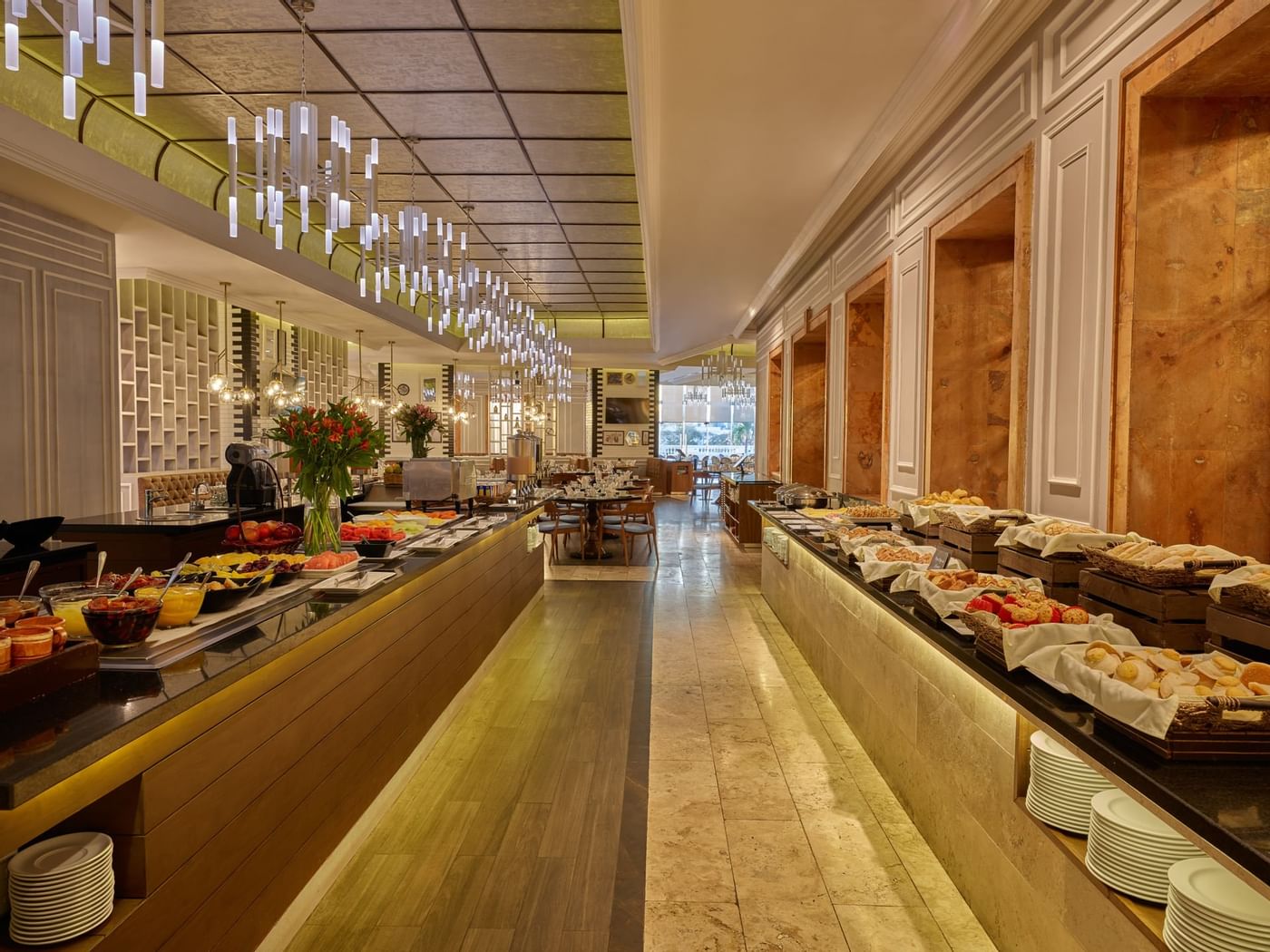 Cocktails & Cuisine
Stelaris Bar
Snacks and drinks
"A place about stars for stellar event. Fiesta Americana's insignia bar, specialized in author mixology"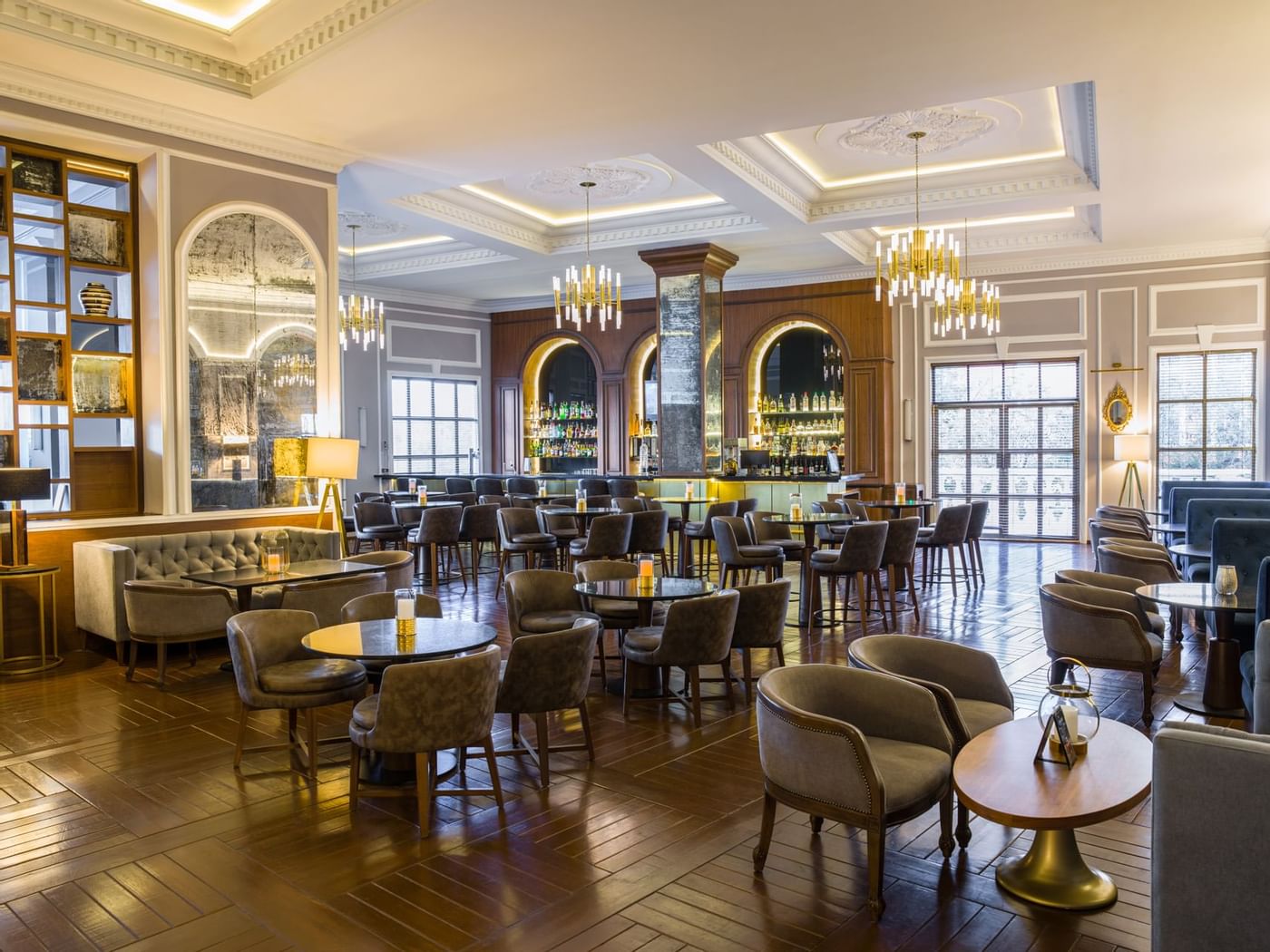 Cocktails & Cuisine
Café Kuun
Coffee and Snacks
Nespresso cafeteria with a French touch where exquisite breakfasts, paninis and freshly baked pastries are served.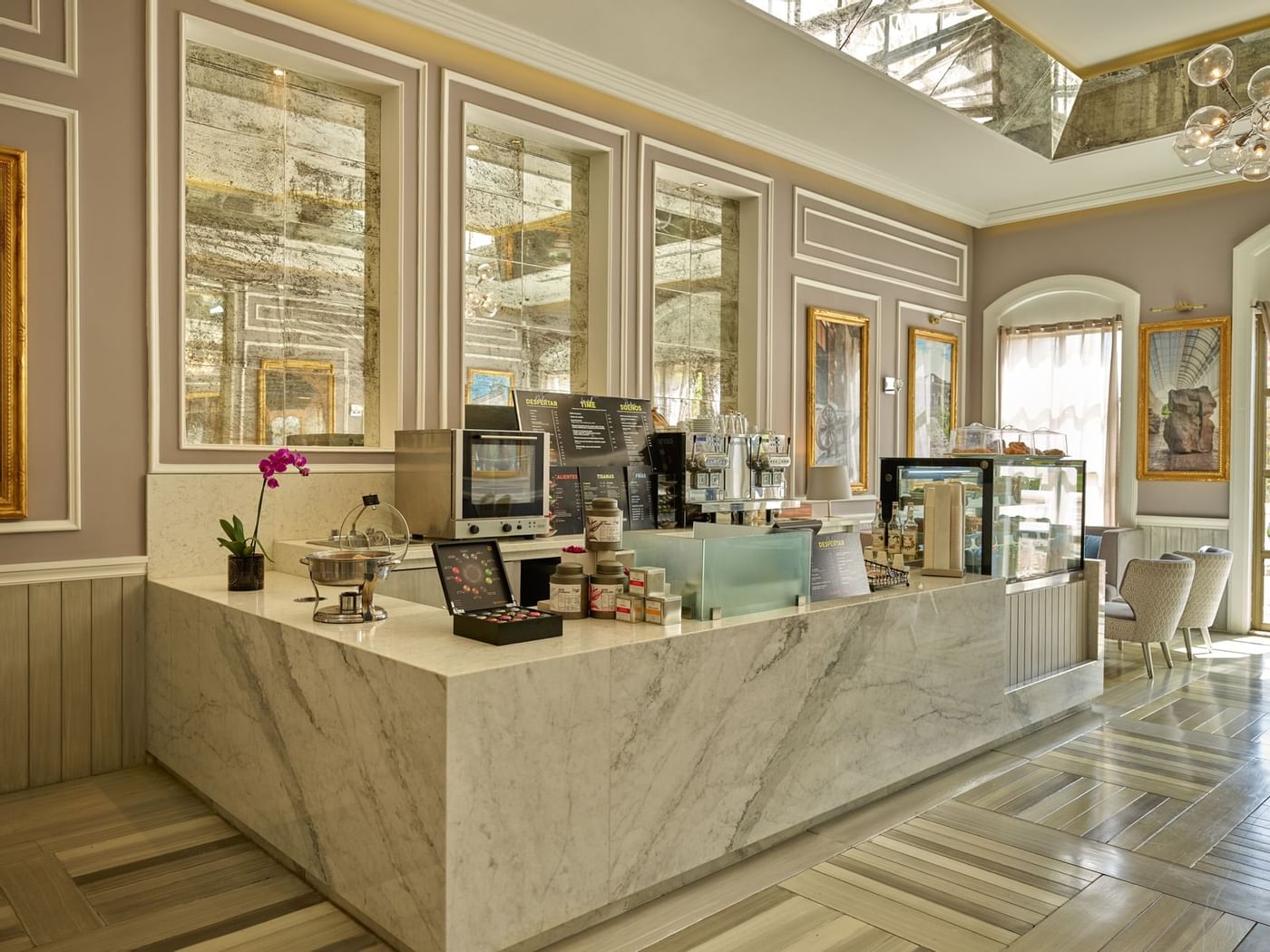 Staff at Restaurant & Bars AMAIZING SERVICE

Really super well trained staff. Treatment was fabulous at all restaurants and bars. The room had a very comfortable bed super huge TV.Best nights sleep ever. Cheap mini bar by my standards. I loved changing my room for a bath tub !! UGH Thank you. View was to Pool. I have to say it was the best Breakfast Buffet ever. Really amazing food and service. Love , Love it. I would definitely stay again.Spa was nice and great to take jacuzzi after tours all day. Fun guests and many return customers.

-
Elzabeth
What a relief !!!!
After five nights in a tiny rustic shabby-chic lodging in the Historic District, we moved a mile north to the Fiesta Americana which was then #1 on TA. Wonderful contrast to the rusticity and 19th century plumbing of our first few days. I normally don't go for big ""business hotels"", but this was wonderful. It looks and feels like a 5-star hotel. Rooms and common areas are glamorous and impeccable. Service was lovely. The Fiesta Club upgrade that we took enabled us to stroll from our comfortable 5th floor room to a more exclusive hospitality area for breakfast. In the evening this area offered beer and wine with little tapas and desserts--all gratis. Great generous hospitality. We loved having this intimate space to retreat to at the end of the day where the anonymous feeling of a big hotel was mitigated.
Very good value, very generous hospitality except for one glaring oddity. You were provided 2 coffee capsules in room at check in. If you wanted more coffee capsules after that....you had to fill out a ""voucher"" at reception and you'd be charged over $3USD for each capsule. Crazy! I guess they must want you to go to hotel restaurant where your included breakfast is served. There was no limit on coffee there, so I don't get it. I also enjoyed shopping for silver jewelry and souvenirs in the convenient shopping mall on the first floor of the building.
Read less

-
La Bostoniana
Don´t stay anywhere else!!!!
This is an elegant and charming hotel in the best location. Walk anywhere. Room was immaculately clean and housekeeping service was fantastic. Plenty of hot water and water pressure in the shower. The pool is large and gorgeous, especially at night. We asked for a room on an upper floor and we had a quiet room even though it faced the street. All staff greeted us with a smile on every encounter. The lobby has a beautiful ceiling and comfy seating. Shopping mall on the lower level made everything easy. Across the street is Walmart in case you need anything imaginable. The only place we ate was the coffee shop and the young woman there was delightful and cut up some dragon fruit we got in the market. What a beautiful example of Mexican hospitality. We were there for 7 nights. Muchas gracias!!
Read less

-
Mayandollar
Exceptional !!!!!

This hotel was awesome. We had to book last minute and after looking at other reviews I was a bit worried. When we arrived, all desk staff spoke English. They were very friendly and kind. Our room was on the forth floor and it was gorgeous. The king was extremely comfortable. The room had everything you need and was very very clean. They have a great pool area, tennis court and hot tub area. They also have a great gym. We workout regularly and being at a hotel gym, we were very surprised with the equipment provided. This is a very safe area to walk around. There is a Starbucks and other cute restaurants and shops just down the street. Across the street is Walmart. We went there to grab alcohol and snacks, as the stuff in the mini fridge seemed a bit over priced. We stayed at this hotel for 3 night and absolutely loved it. I highly recommend it, it you are traveling through or just need a nice, safe place to stay.

-
Exclusive Offers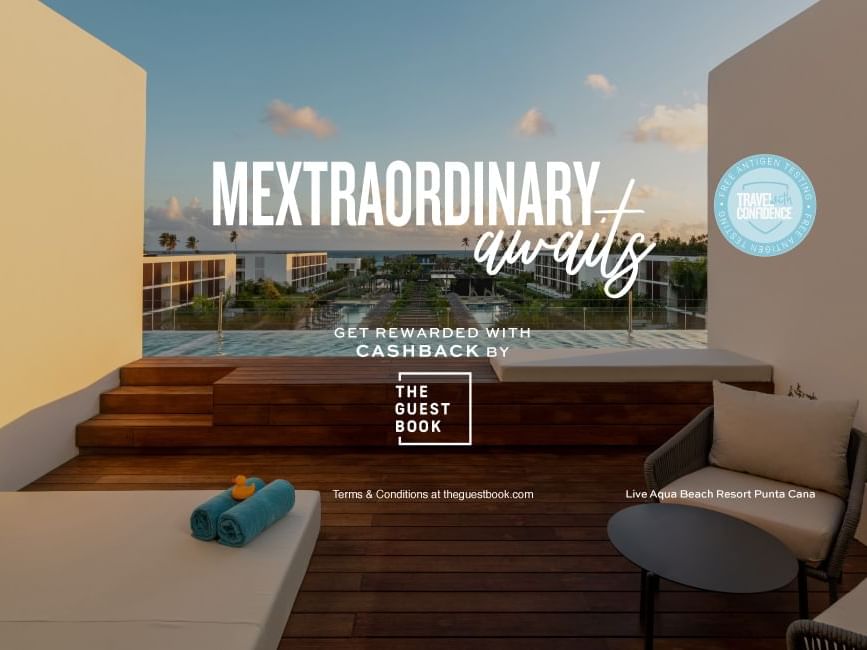 Exclusive Offers
Get rewarded with cashback by the Guestbook
We've partnered with the guestbook to give you cash rewards. Each time you stay at la colección resorts you earn toward your next reservation, donate for a cause or get cash back with gift cards.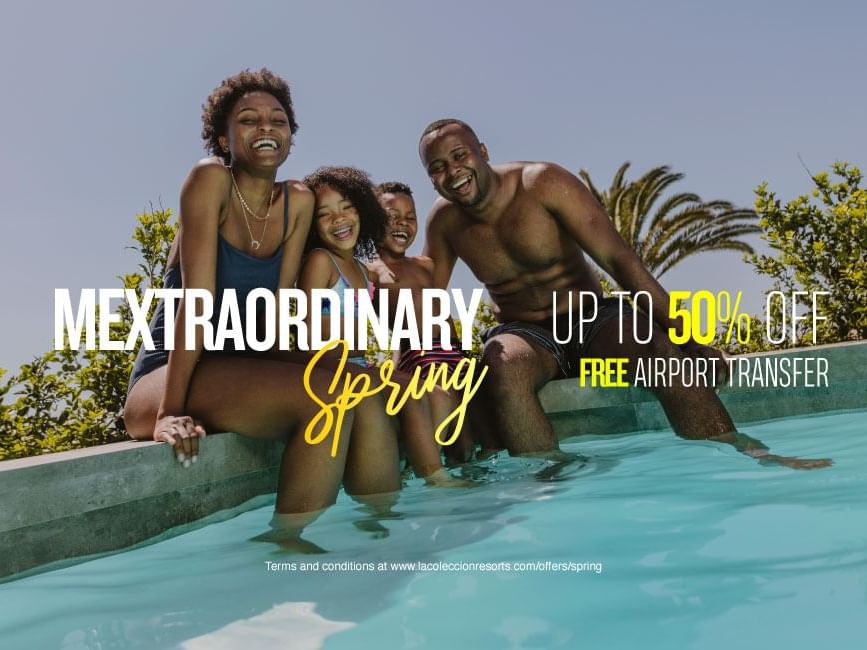 Exclusive Offers
Mextraordinary Spring
What Could Be Better Than Breathing In The Ocean Breeze, Soaking Up The Sun, And Knowing The Little Ones Are Having A Blast?
*Transportation included exclusively when booking on our websites 4 nights or more at participating beach hotels.
Free transfer to the airport does not apply at Fiesta Americana Cozumel All Inclusive, Fiesta Americana Acapulco Villas, Fiesta Americana Cancún Villas and The Explorean Cozumel.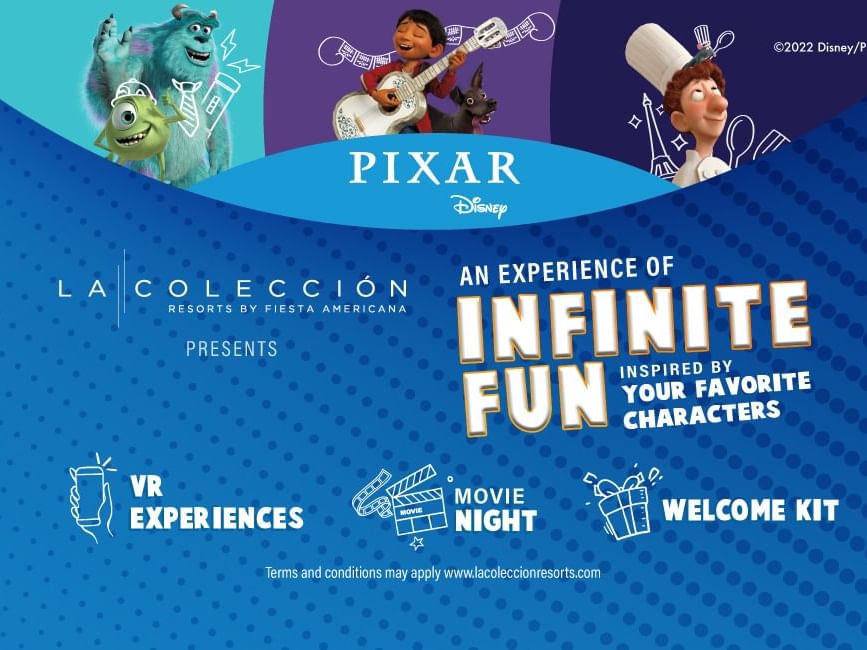 Exclusive Offers
Endless Fun With Disney And Pixar
Turn these vacations into an endlessly fun experience, inspired by the incredible world of Pixar. An adventure for the entire family, where augmented reality and special nights in your room, like Movie Night, will take you all to the fantastic world of Pixar movies and their beloved characters.
What's Nearby
Explore the Best Things to Do in Mérida, Mexico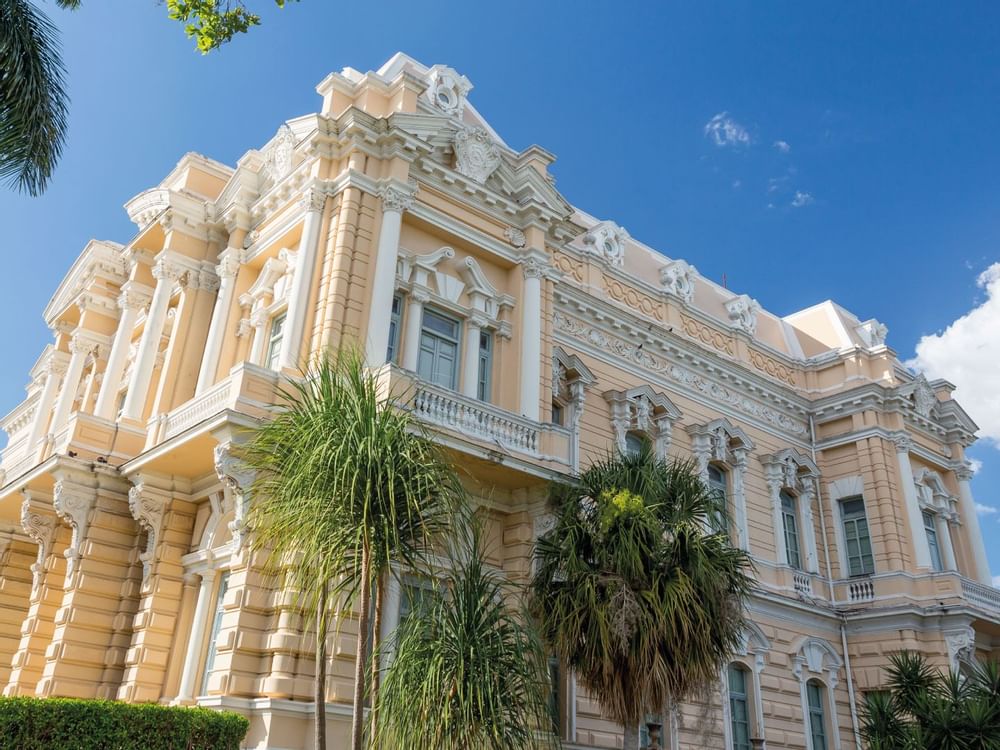 Just outside our doors, the Champs Elysees-inspired Paseo Montejo is a vibrant thoroughfare lined with shops, restaurants and museums. Nearby attractions include the Mérida Cathedral, the MACAY Museum and the Casa Montejo Museum.

Fiesta Americana Mérida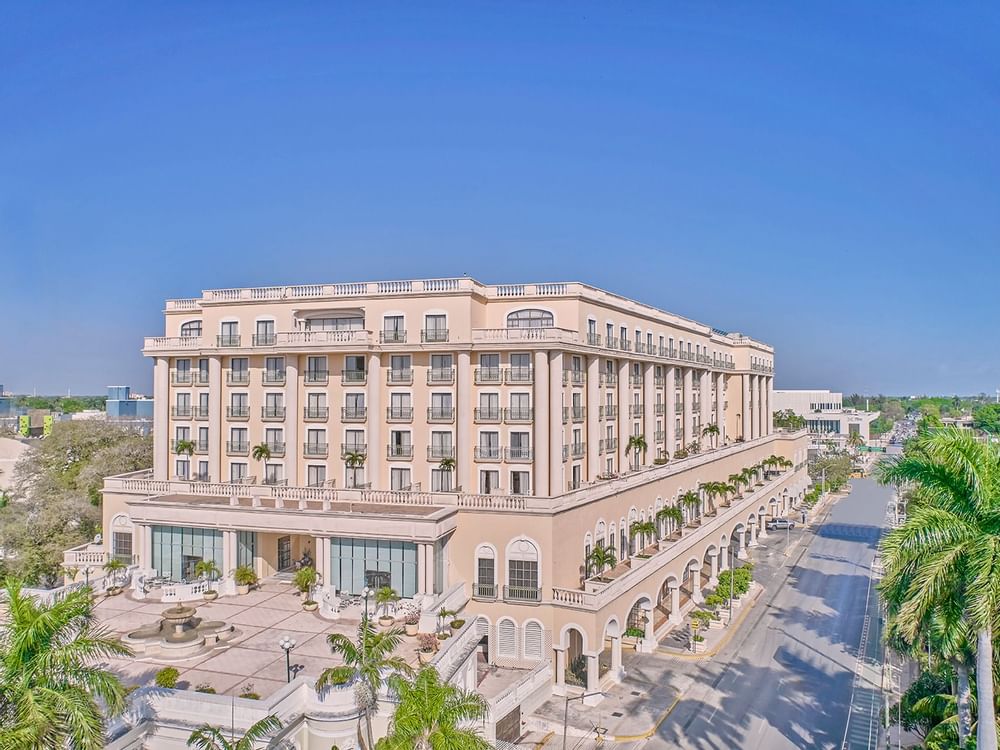 Fiesta Americana Mérida is a majestic hotel presiding at the intersection of the two more prestigious avenues in Mérida, Yucatán: Paseo Montejo and Avenue Colon.
The Great Museum of the Mayan World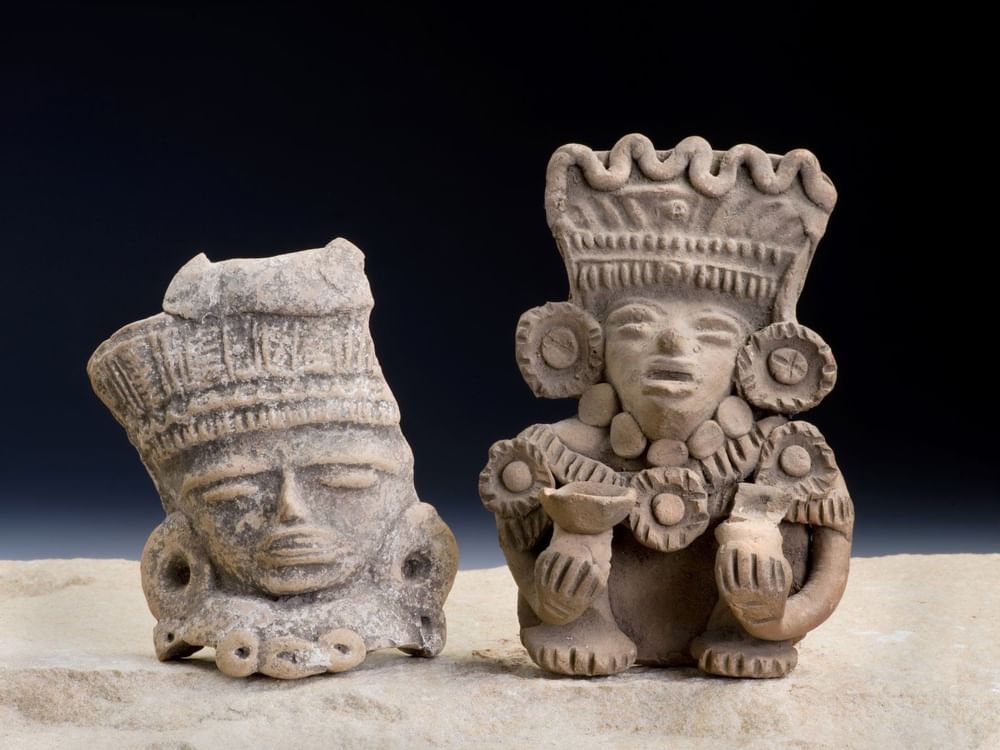 The Great Museum of the Mayan World of Mérida was inaugurated on December 21th, 2012, due to the occasion of the end of the long count according to the Mayan calendar, it was dedicated to the present and historical Mayan cultures.

Chichen Itza Archeological Site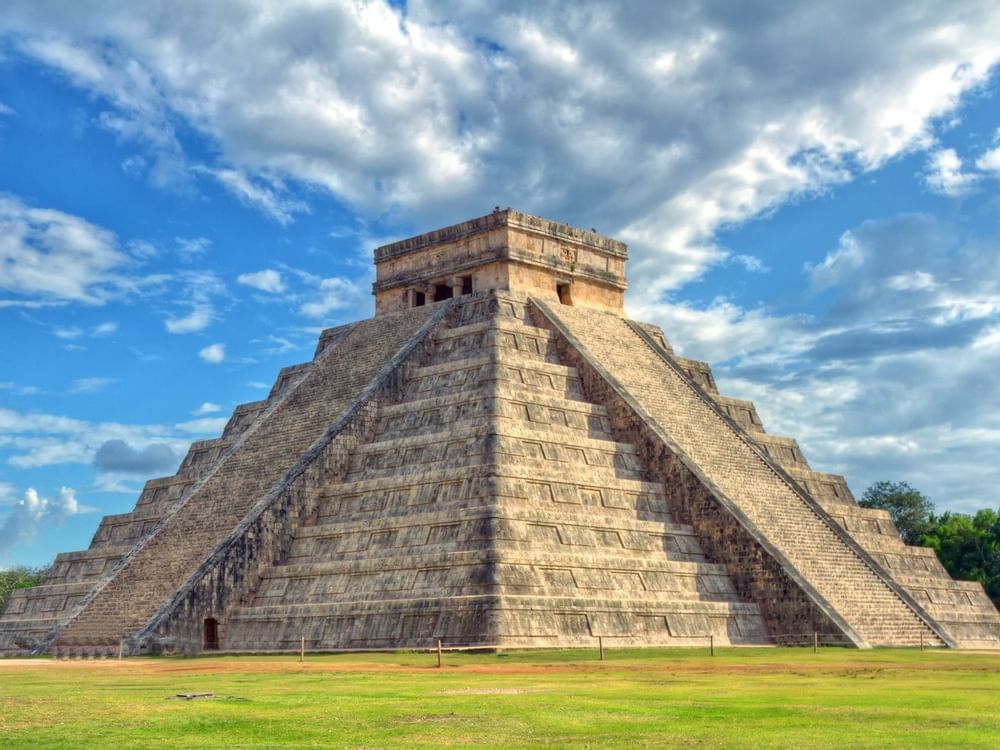 The Chichén Itzá archaeological zone is famous worldwide for the play of light and shadow that at each equinox occurs on the steps of the pyramidal base known as El castillo.

Uxmal Archeological Site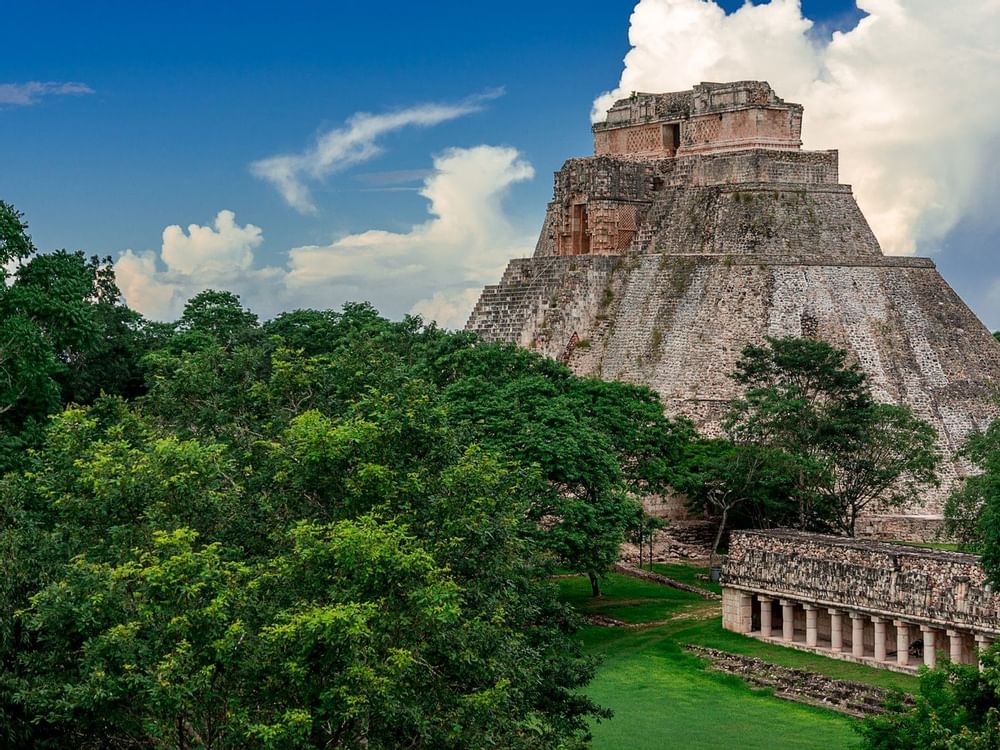 Uxmal is an ancient place name, as it appears in various early colonial documents, however its etymology has not been satisfactorily explained. The traditional interpretation of the meaning of the word is "Three times constructed".

The Yucatan Cathedral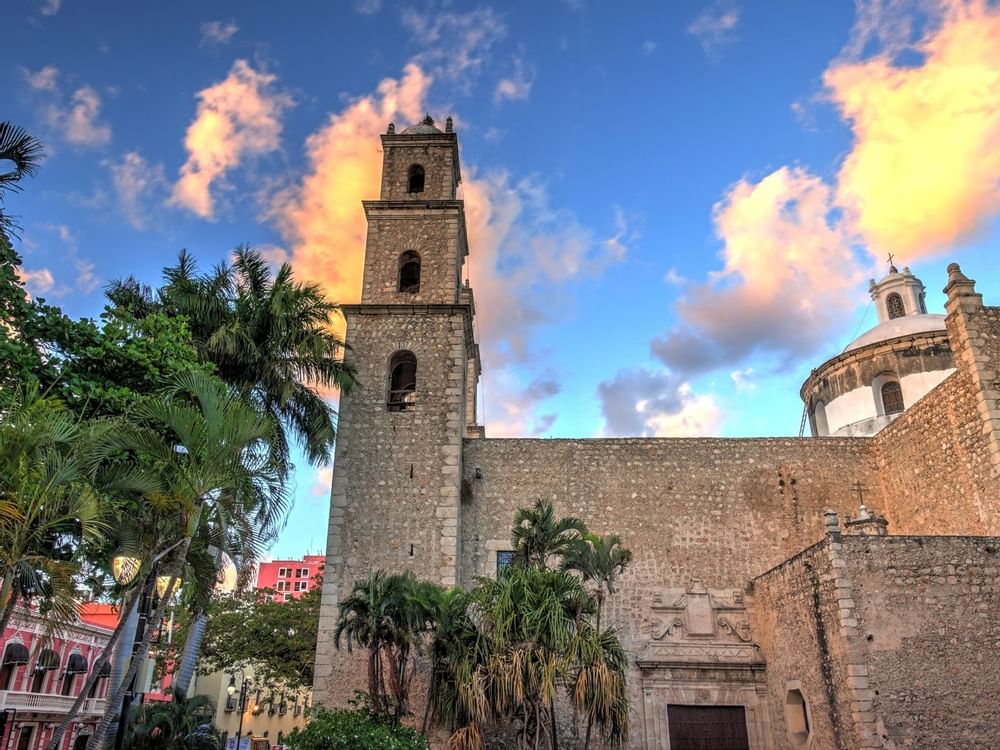 The Yucatan Cathedral, in the city of Mérida, capital of the state, is dedicated to San Ildefonso, it is the seat of the archdiocese of Yucatan.

The Great Museum of the Mayan World
Chichen Itza Archeological Site