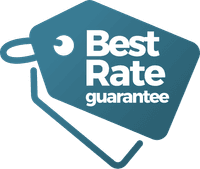 We guarantee our rates. If within 24 hours of reserving with us you find on another website belonging to a different online travel agency a lower rate for the same trip you reserved, we offer to match the total price of your reservation. For more information visit our FAQ's page
Don't Miss Out on Lower Rates!
Want to get even more out of your stay? Become a La Colección member and receive exclusive deals, discounts and perks, specially designed to enhance your vacation.
Grand Fiesta Americana Querétaro
Staying at Grand Fiesta Americana Querétaro will be a unique experience that you will never forget. Upon arrival at our luxury hotel in Querétaro, you will be welcomed into an atmosphere of fine design, elegant spaces and exclusive service. Located in one of the most prestigious residential areas of Querétaro, between Plaza Bulevares and Plaza Parques, our luxury hotel is renowned for its charming architecture that evokes the great Mexican haciendas. The interior walls, lined with onyx, combined with a gallery of paintings by artists from Querétaro, offer a rich sense of local influence.
Enjoy the comfort expected of one of the most exclusive luxury hotels in Querétaro. Be pampered by the personalized attention we offer in our exclusive hacienda-style apartments. Take in views of the city from our majestic terrace and savor an exquisite continental buffet breakfast each morning. Hotel amenities include 173 luxury guest rooms, as well as a fitness center, outdoor pool, restaurant, bar, Business Center, and event rooms. We are also the only hotel in the city with a concierge committed to satisfying the wants and needs of all guests.
Grand Fiesta Americana Querétaro is undoubtedly among the finest hotels in Querétaro, the perfect destination for discovering this enchanting and magical capital city. Experience unparalleled enjoyment and unmatched value in an elegant, unique space dedicated solely for your comfort and relaxation.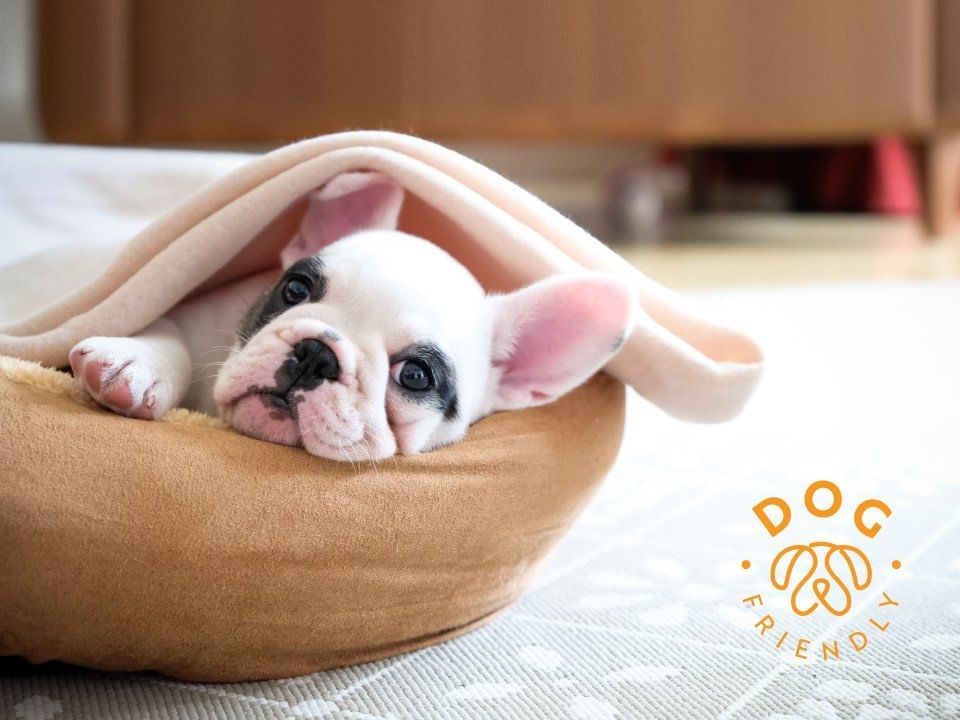 Dog Friendly
Your best friend deserves to travel with you, and discover amazing places together. Find this unique experience with our Dog Friendly, where we'll welcome your pup and pamper him upon arrival with a special kit, which includes a bed and bowls for him to enjoy throughout his stay.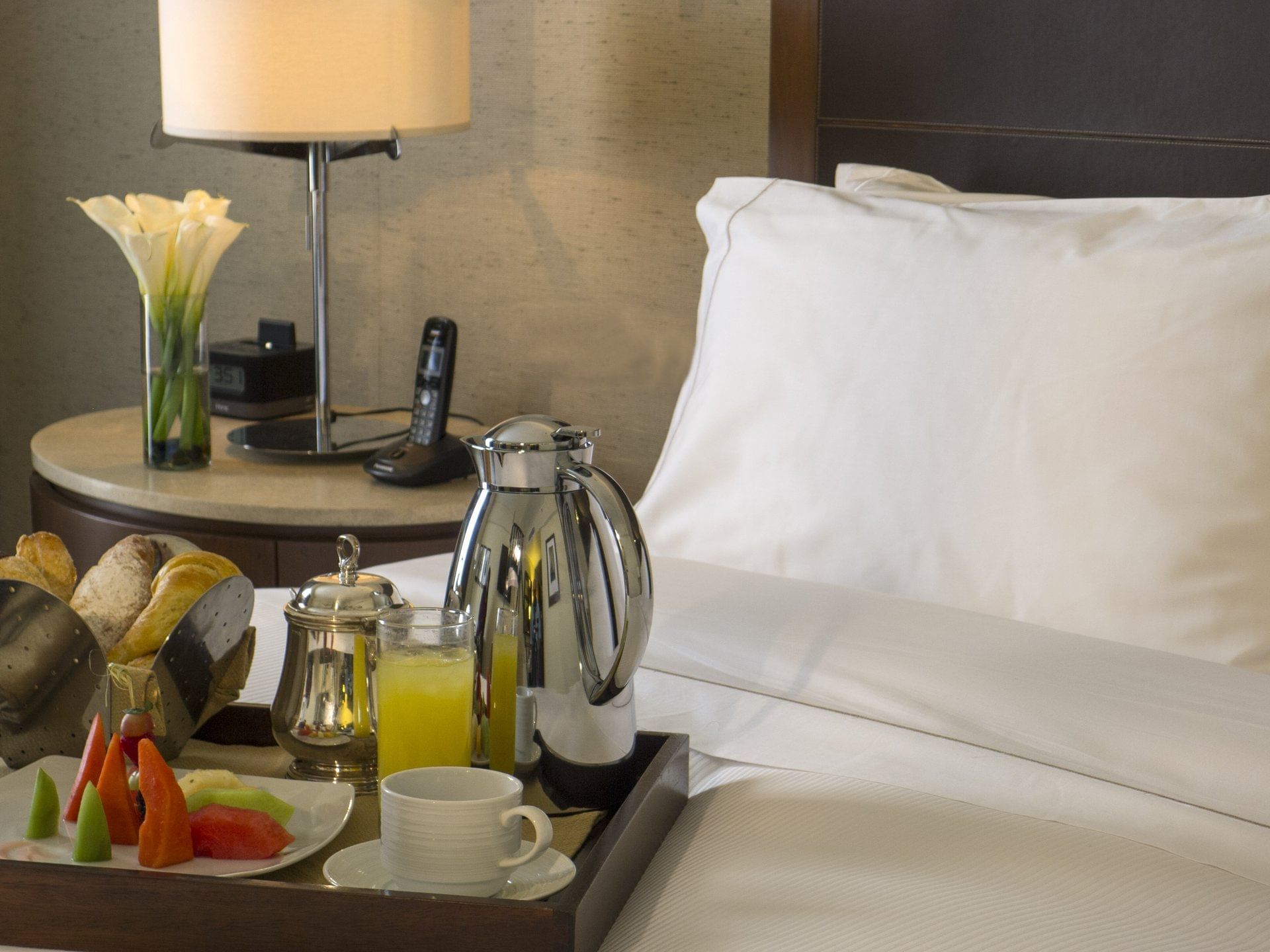 Starbucks Coffee
Start your morning with your favorite Starbucks coffee beverage and breakfast pastry.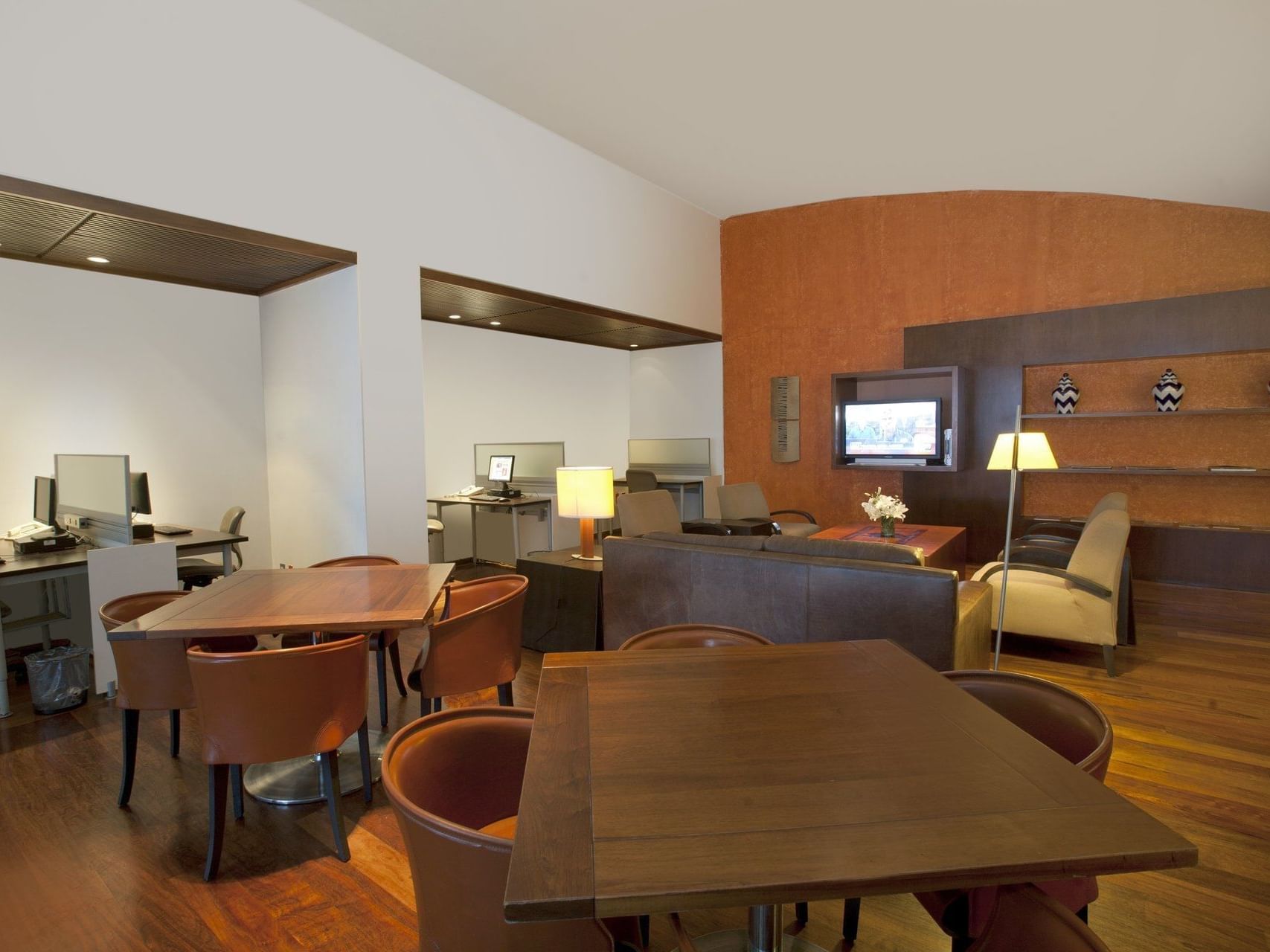 Business Center
Located on the ground floor, the business center offers functional spaces where you can work comfortably.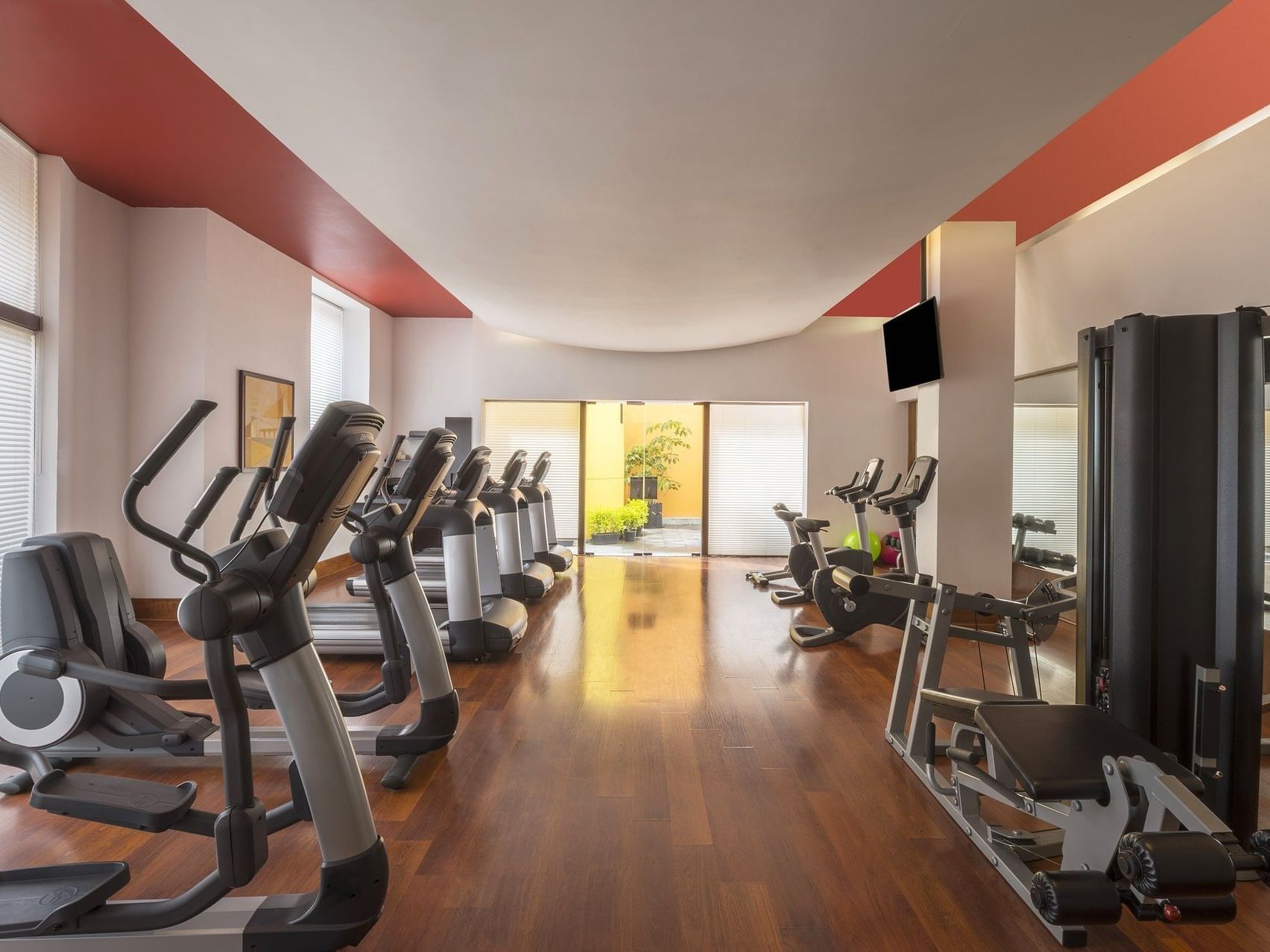 Gym / Wellness Center
Keep up your healthy routine in our well-equipped 24-hour gym.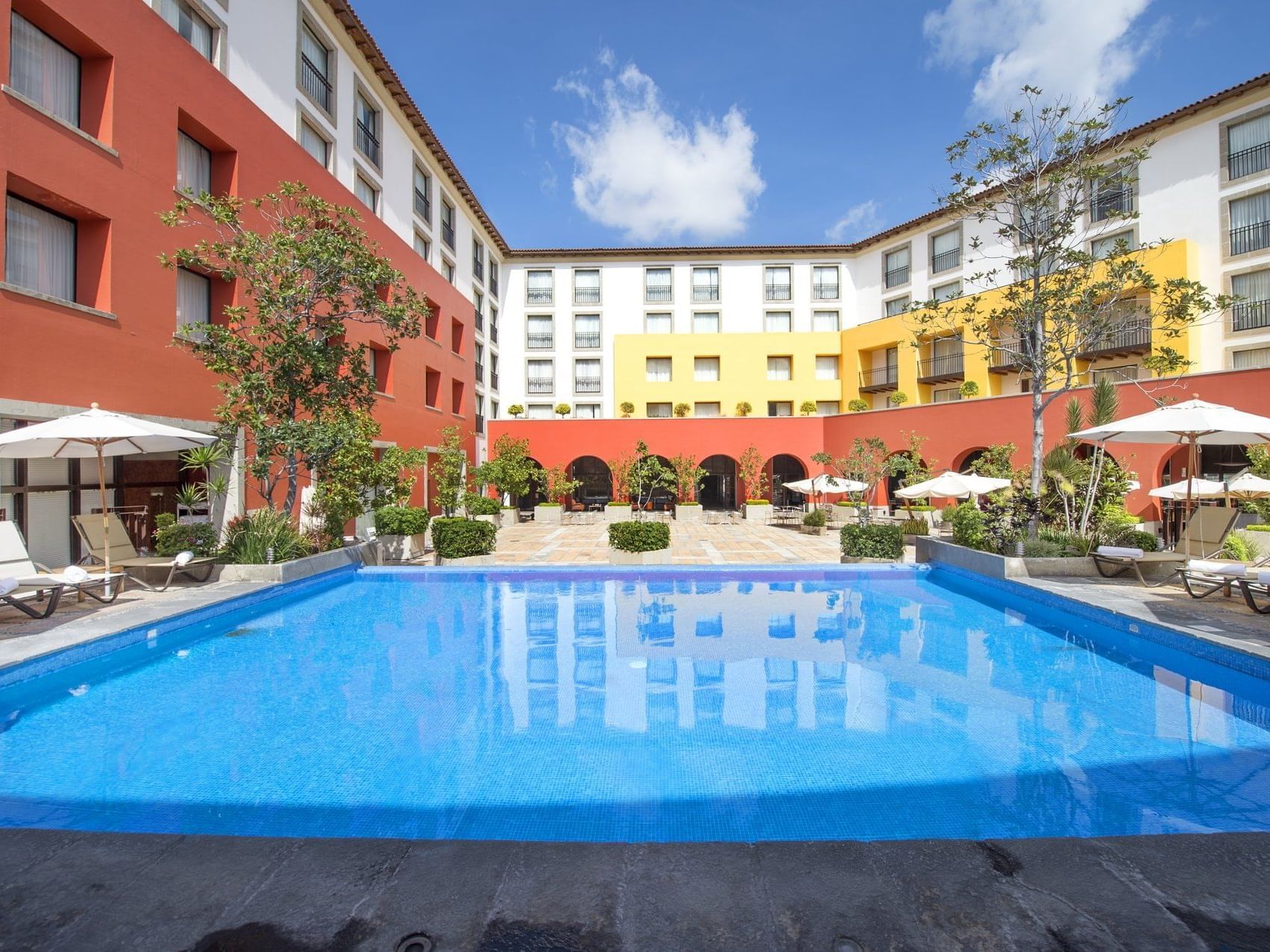 Swimming Pool
Relax in our heated pool with a wading area and Jacuzzi.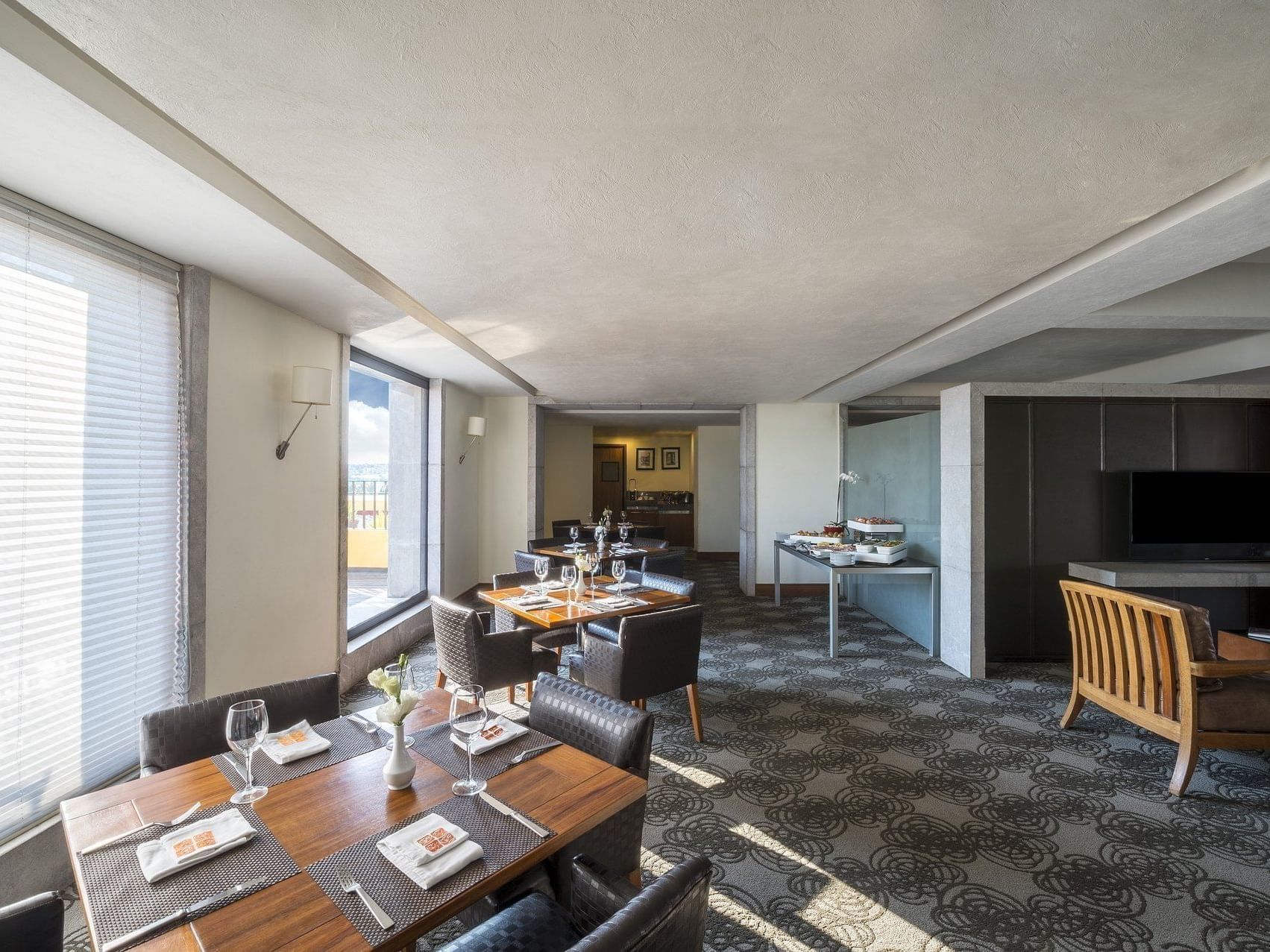 Grand/Fiesta Club
Stay on this exclusive floor for special perks and upgrades.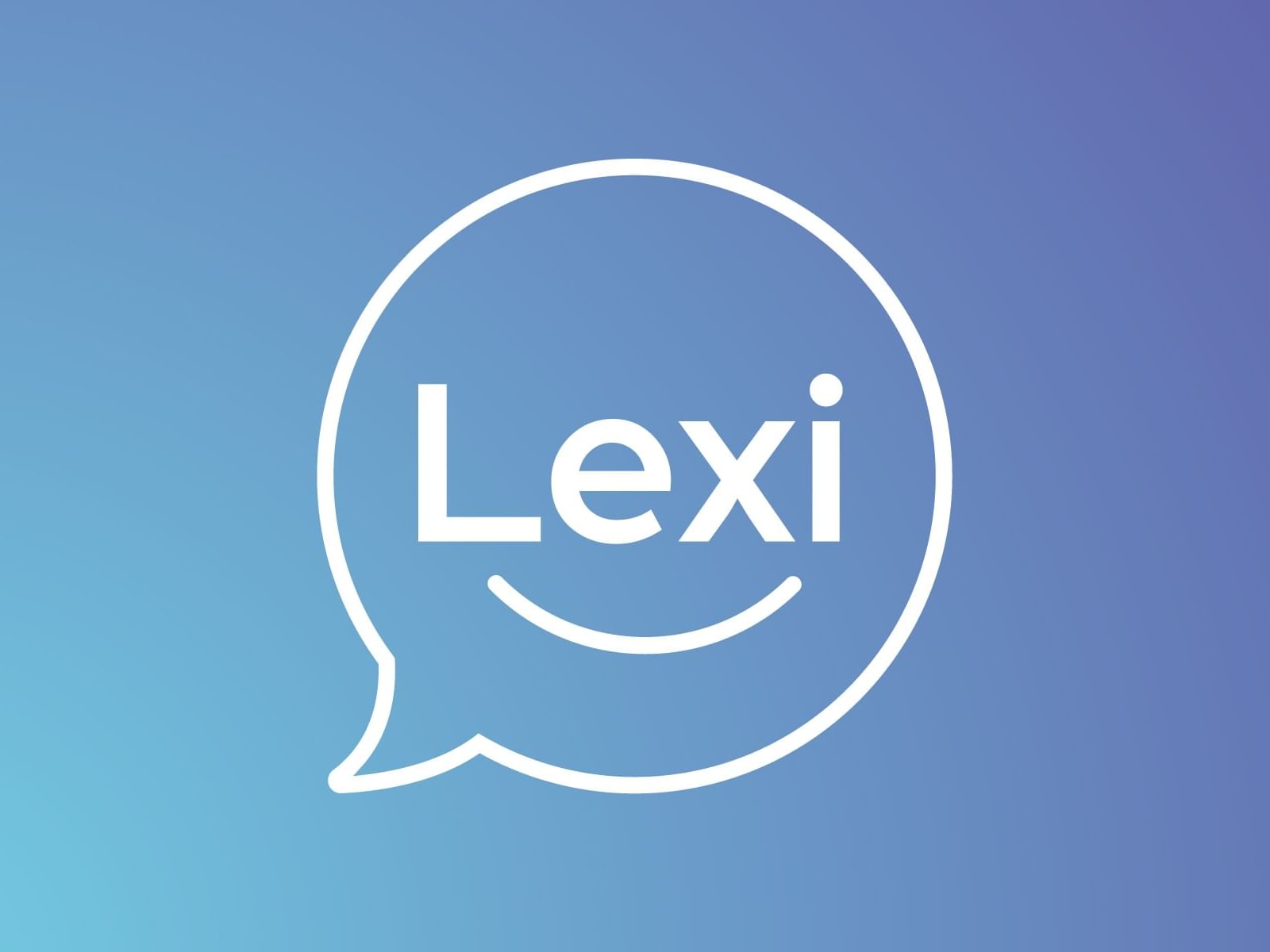 Digital concierge
Hi!, I'm Lexi
Your digital concierge, I'm ready to support you in whatever you need, such as attending your requests, clarifying your questions and most importantly, making your stay unique.
Get to know me and discover everything I can do for you.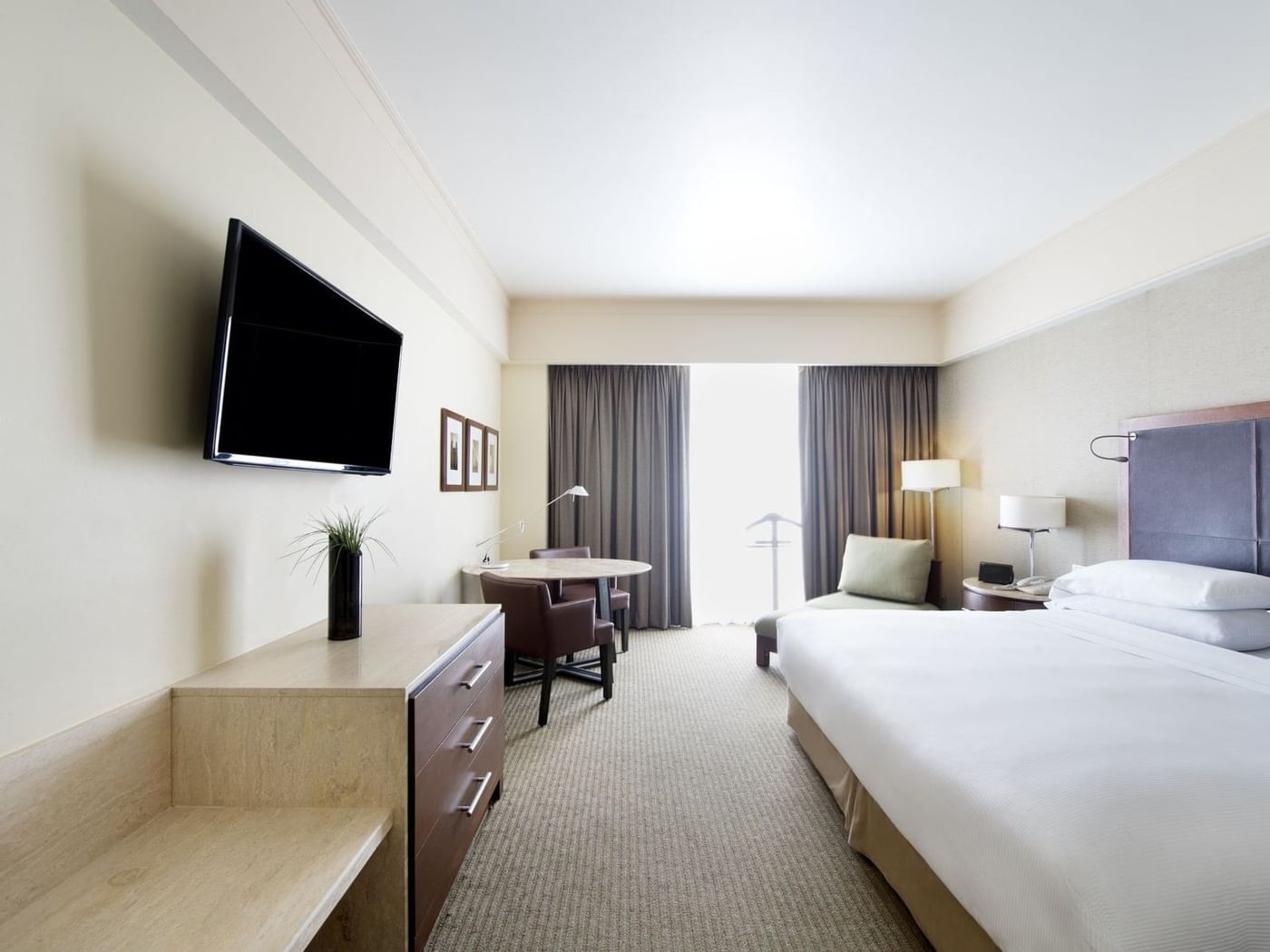 Rest & Relax
Deluxe Room, 1 King
Enjoy unmatched relaxation in this room featuring the perfect combination of luxury and comfort.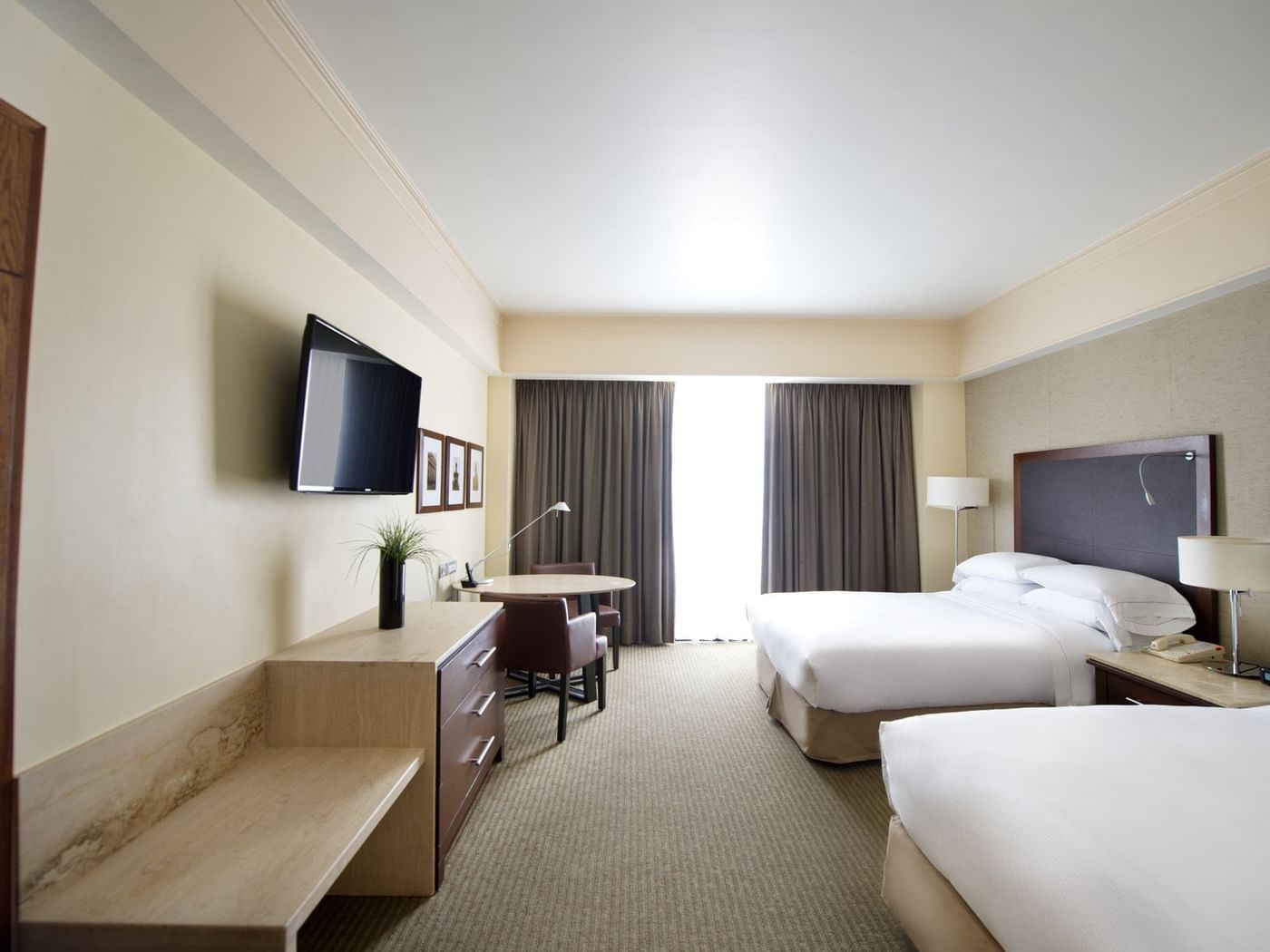 Rest & Relax
Deluxe Room, 2 Double
3

Two Double Beds

377 ft2
Step into an inviting refuge teeming with exquisite details.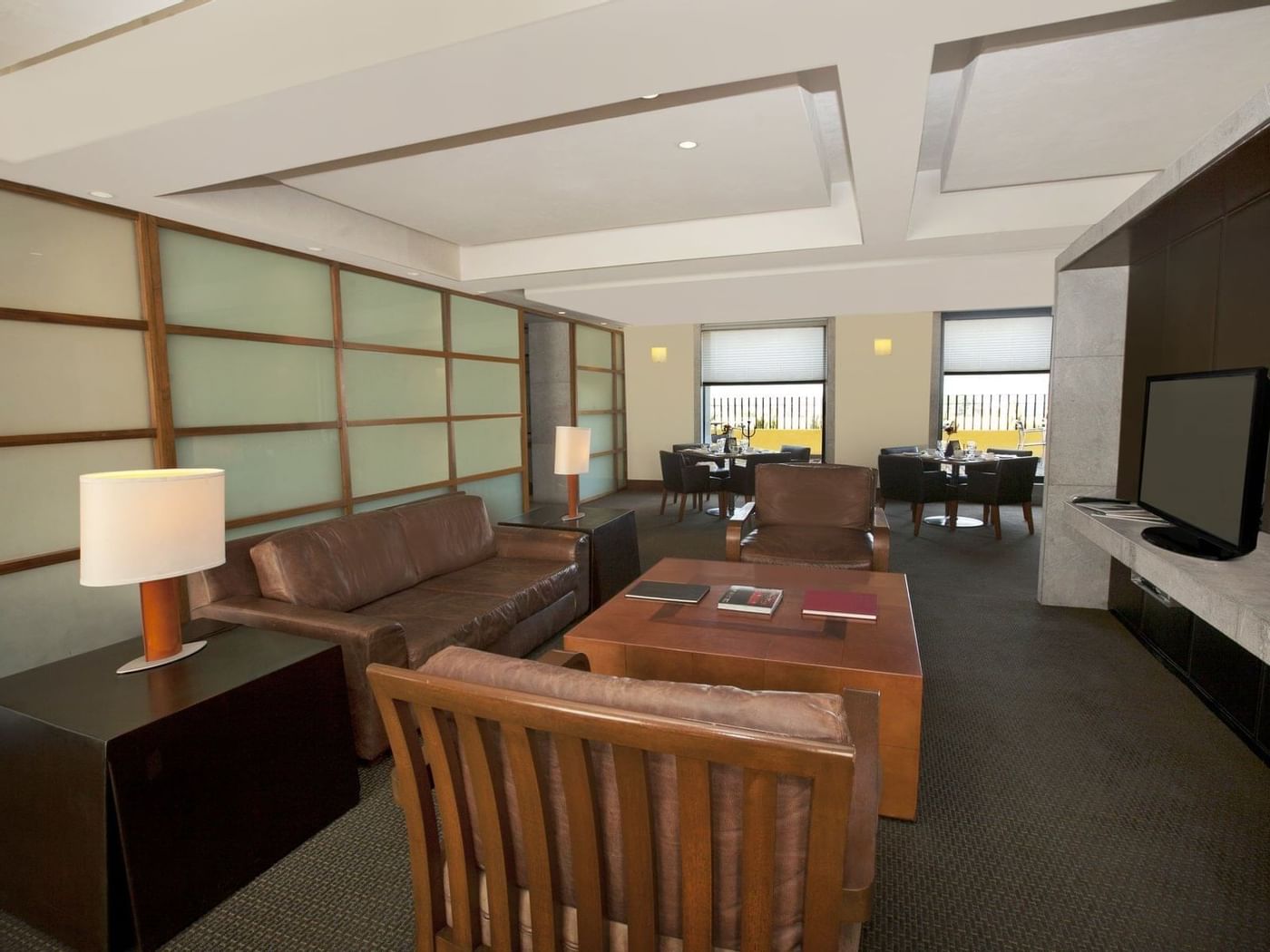 Rest & Relax
Fiesta Club, 2 Double
3

Two Double Beds

377 ft2
Spend an unforgettable stay in an exclusive room boasting contemporary style and unmatched luxury.
Cocktails & Cuisine
Casa de las Magnolias
Mexican - International
Delight your palate in this cozy space located on the first floor of the hotel. Savor exquisite Mexican cuisine and delicious international dishes.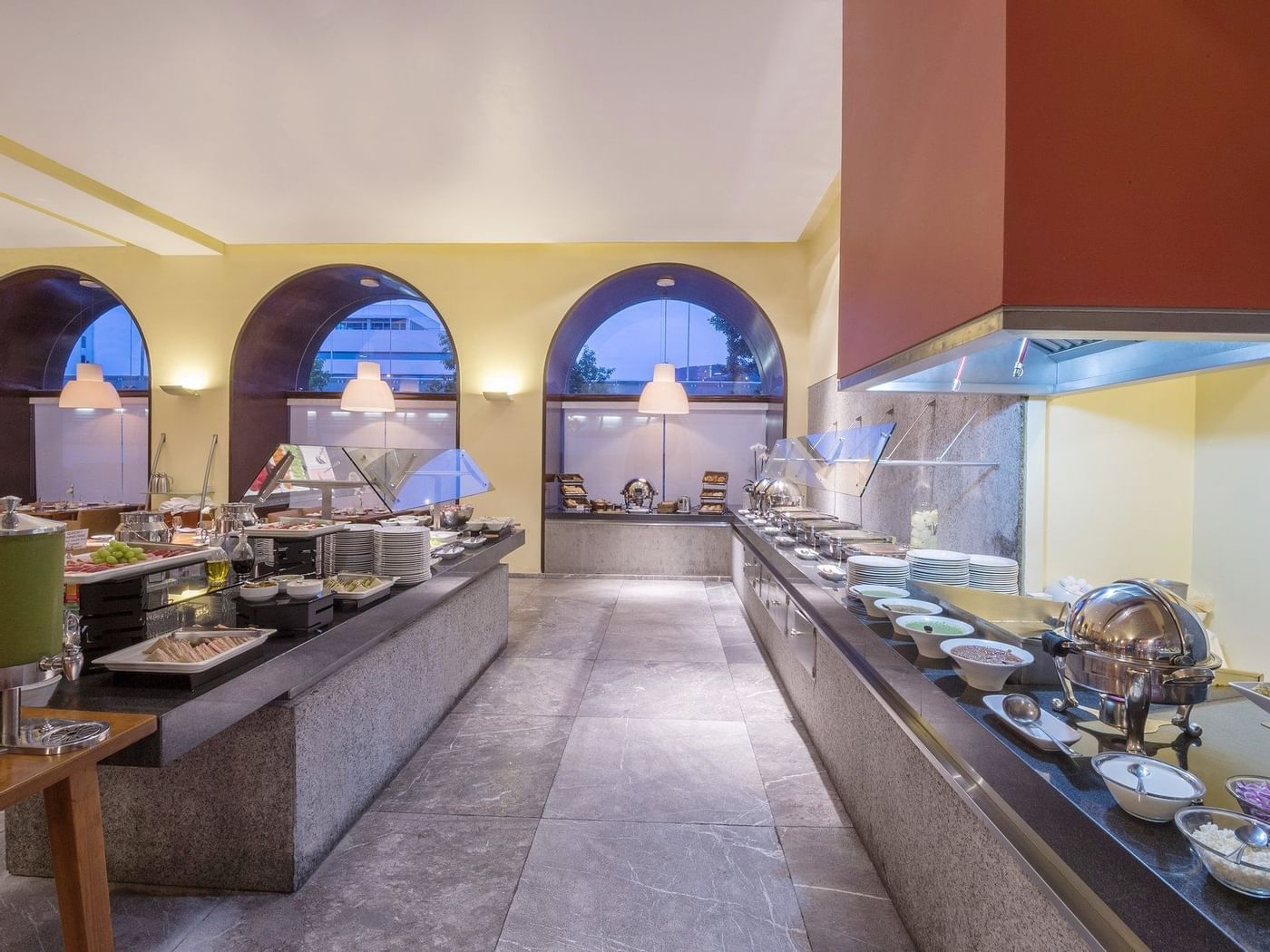 Cocktails & Cuisine
Ónix Bar
Snacks and drinks
Enjoy a relaxing dining and socializing experience without having to leave the hotel. Our bar features delicious drinks and snacks and live sports on the televisions.
Clean and comfort hotel
The hotel is super well-kept, clean and its rooms are very spacious and comfortable. It has very good hygiene protocols against COVID. Your staff is super friendly and helpful. Excellent location. It is about 15 min by car to the city center. His bed is very comfortable and the bathtub is excellent.
-
Excellent attention, facilities and location.
Very satisfied with the attention throughout the hotel, the pool, the restaurant and the rooms. Excellent protocols, I had to see a couple of times personnel with sanitation equipment, doing the process in the corridors and rooms. all the furniture in very good condition, gym, bar, etc.
-
Well maintained hotel with very friendly staff.
Very well located, near the center but with quick access to other areas of the city. Helpful and friendly staff, spacious rooms, and a very nice patio. Breakfast adapted to the circumstances of the Covid.
-
"Excellent hotel"
Excellent hotel! We keep coming back to this particular hotel for its service, friendliness, cleanliness, comfort and in general, we do it because we like to enjoy a good time at the hotel. I highly recommend it.
-
Great service
A pleasant stay, all attentive to what will be needed. They even gave us options to visit the center and nearby places. Clean, quiet rooms. Nice bathroom and good temperature. Nice details.
-
"Good experience "
Very good experience, in the hotel, in the food and in the attention received. It was the host hotel for my daughter's wedding and everything was excellent. Thanks a lot! The rooms are great but above all the attention they gave us from our arrival very good, the reservations in order and everything in general very good.
-
The best option in Queretaro
Every time we go to Querétaro, we stay in this hotel, it is not the closest thing to the activities we do in the city, but we always stay in this hotel, for the quality, service and attention they provide.
-
Highly recommended
Super recommended, very friendly staff, excellent place to hold events, technicians do their job very well. Captain Luis was very attentive to all requirements, everything was fulfilled in a timely manner.
-
Highly recommended
I am working on a project locally and will be staying once a month for the rest of the year here. I have requested that all our employees stay at this location.
-
Highly recommended
Very friendly and the food is good. Close to shopping and nice rooms.
-
Good experience
Great and friendly staff provided for all of my needs. The hotel is very clean and comfortable. A very secure facility inn this time of Covid-19
-
Exclusive Offers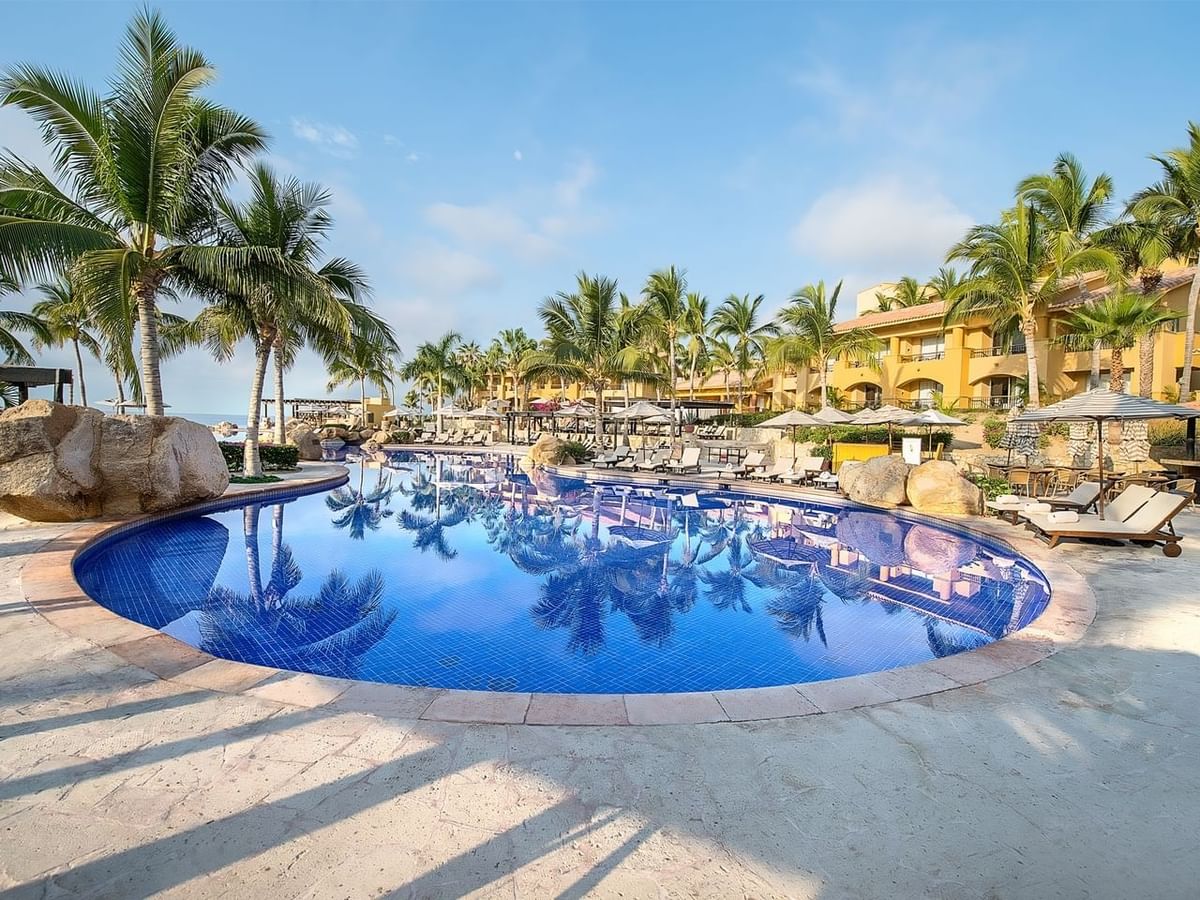 Exclusive Offers
Last Minute Deals
Live unforgettable holidays at our hotels in the best destinations in Mexico and the Dominican Republic saving up to up to 50% off + additional and exclusive discounts when booking on our websites:
*Transportation included exclusively when booking on our websites 4 nights or more at participating beach hotels.
Free transfer to the airport does not apply at Fiesta Americana Cozumel All Inclusive, Fiesta Americana Acapulco Villas, Fiesta Americana Cancún Villas and The Explorean Cozumel.
What's Nearby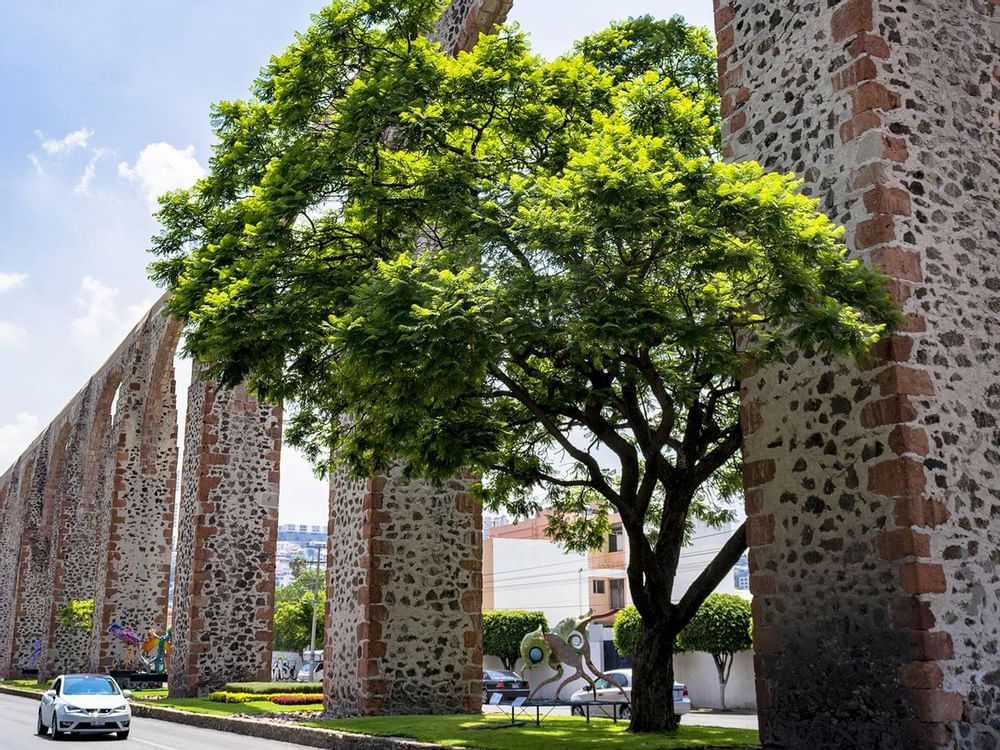 Fiesta Americana Hacienda Galindo Resort & Spa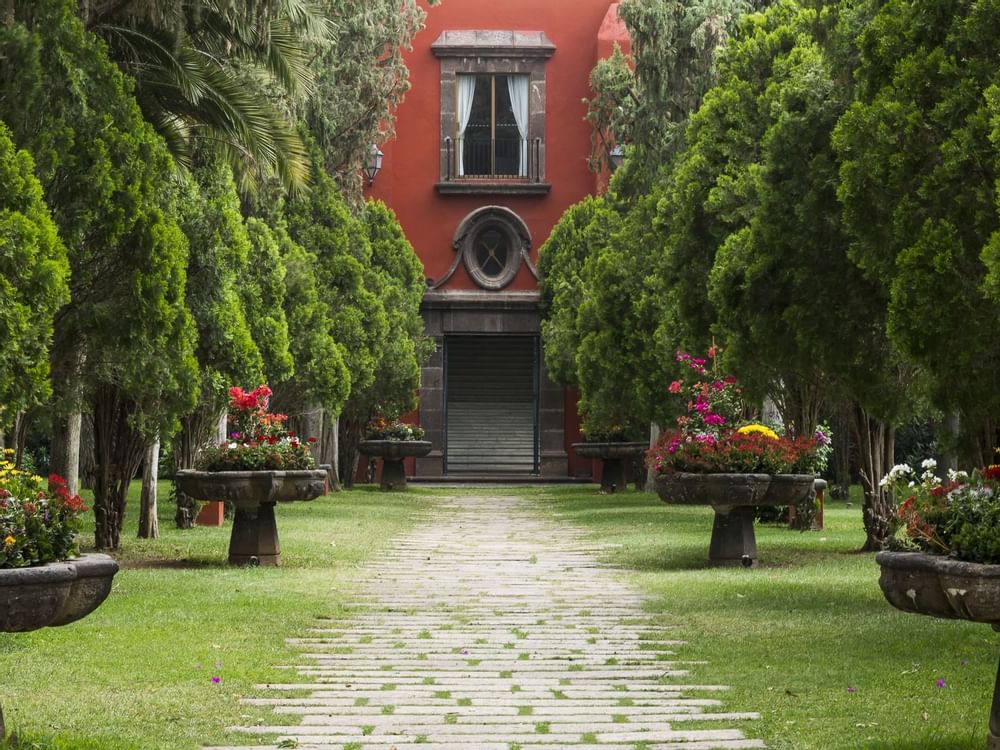 Let's live, enjoy and rejoice the magnificent experience of staying in this hacienda, in the Mexican style with 500 years of history.
Legend has it that in the 16th century Hernán Cortés rewarded Malinche for her loyalty to the place where Fiesta Americana Hacienda Galindo Resort & Spa is located today. A place with a colonial atmosphere but with all the luxuries of modernity, full of gardens and vegetation that evoke spaces of our culture and history.
The attention and hospitality characteristic of Fiesta Americana is incomparable: smiles, good treatment and an unbeatable service.
A trip to the past in the middle of walls and unforgettable sensations. History and exclusivity in our hands.
Grand Fiesta Americana Querétaro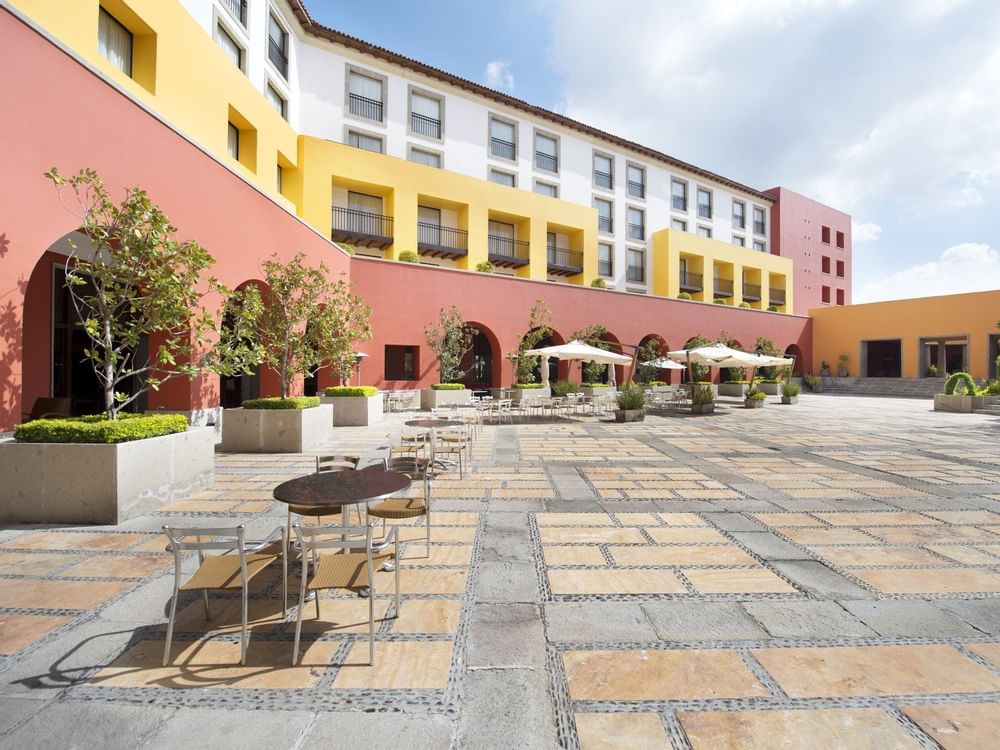 Peña de Bernal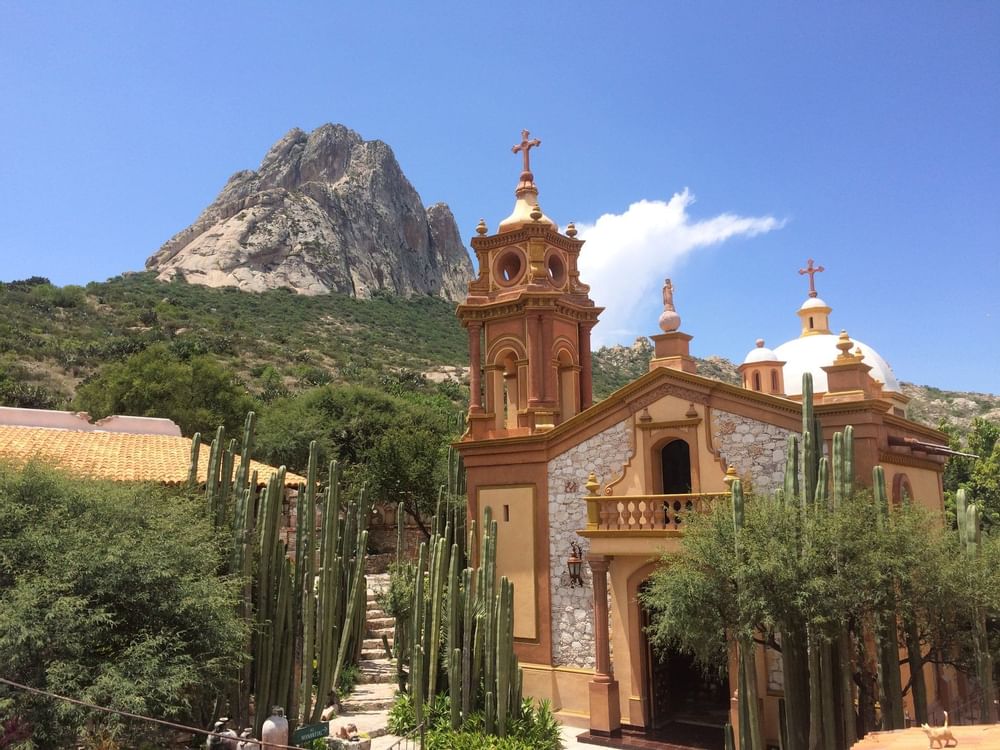 Located 62 kilometers from the hotel, this magical town is home to the third largest monolith in the world. This is one of the 4 Magical Towns in the state of Querétaro.
Tequisquiapan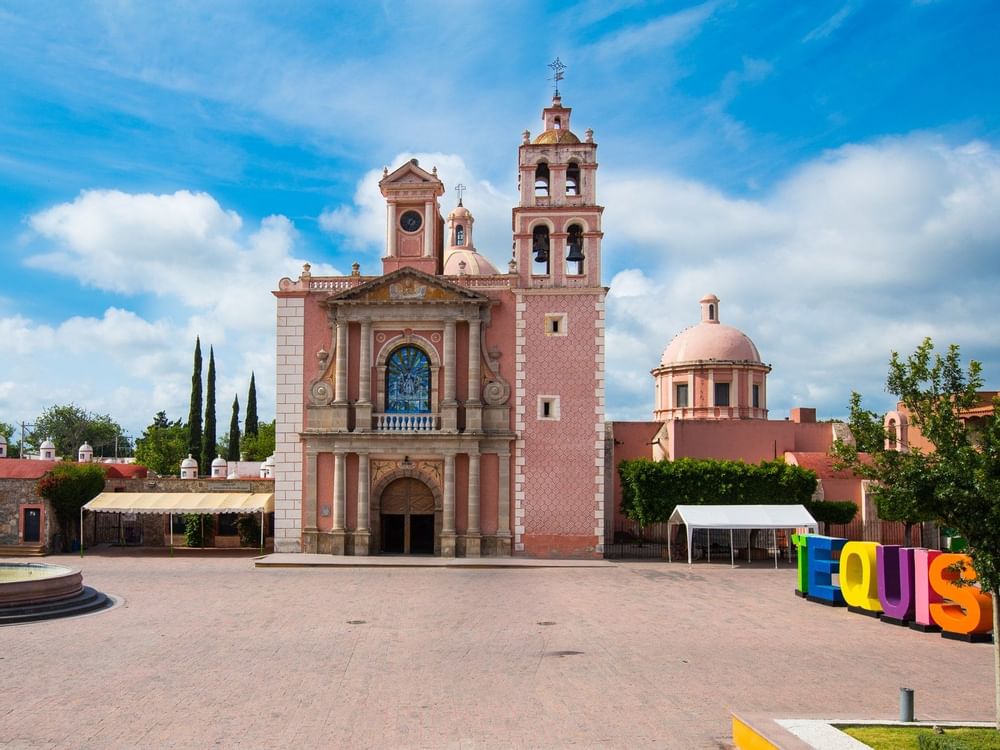 Located 33 kilometers from the hotel, this charming town features cheese and wine farms, as well as hot air balloon rides and is part of the 4 Magical Towns.
Amealco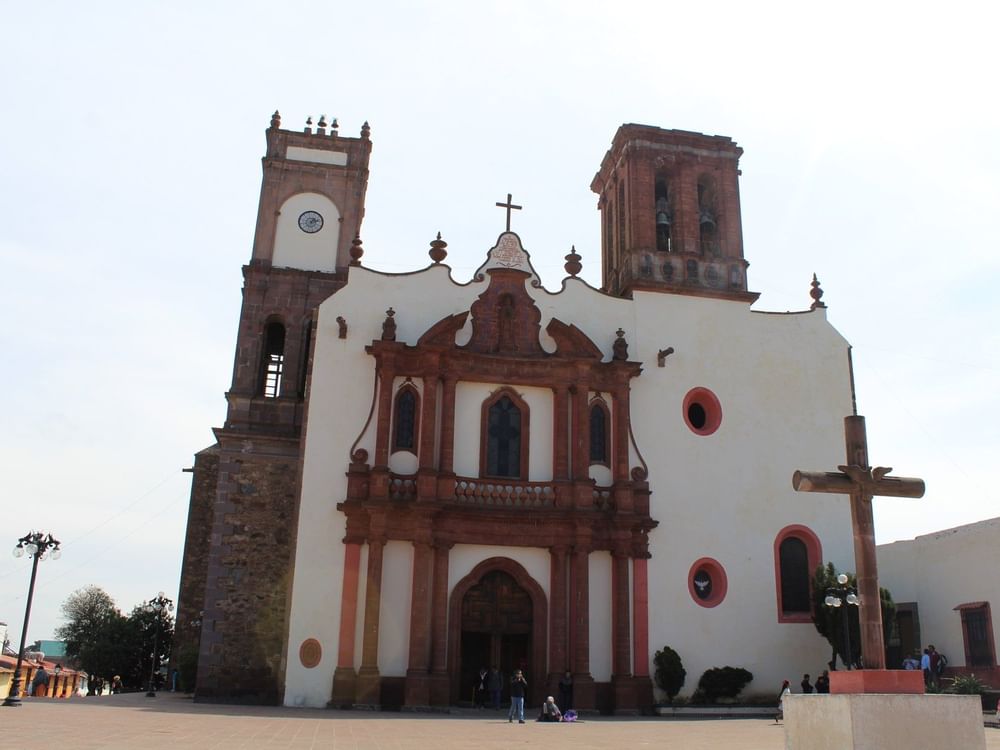 Located 28 kilometers from the hotel, this enchanting town is famous for it Otomi's craft doll, which is a cherished part of Queretaro cultural heritage, it was named a Magical Town in 2019.
Freixenet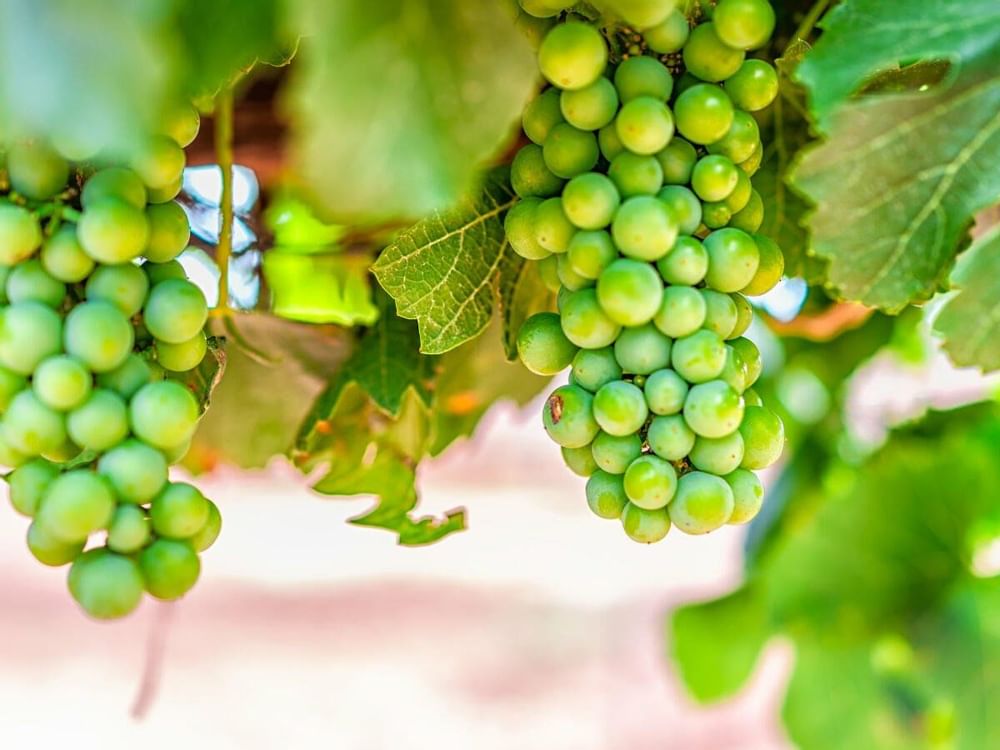 Visit this beautiful and tranquil winery for tours of its underground cellars, wine tastings and horseback riding among the scenic vineyards.
La Redonda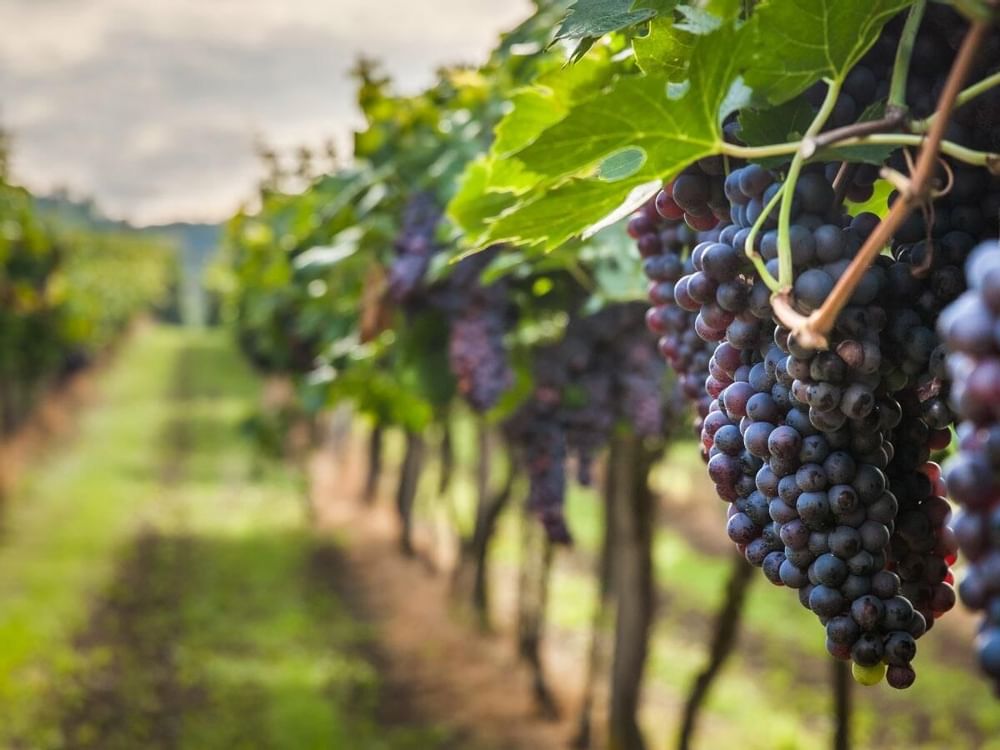 Take a free tour of this winery located 15 minutes from Tequisquiapan. Learn about the colorful Salvador grape and the famous aromatic Cabernet Sauvignon produced here. Your tour ends in the wine cellar, where you can taste and purchase wines of your choice.
Donato Querétaro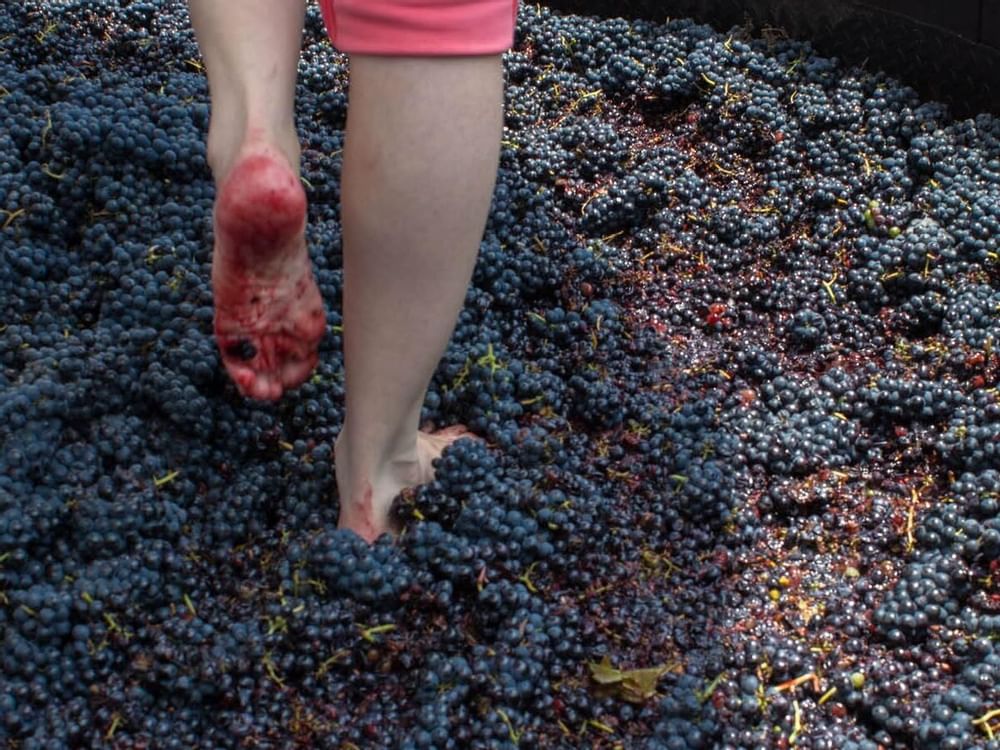 Framed by beautiful vineyards, Donato Winery offers tours and tasting, along with an enchanting chapel and space for meetings and weddings of up to 1,000 guests.
Puerta del Lobo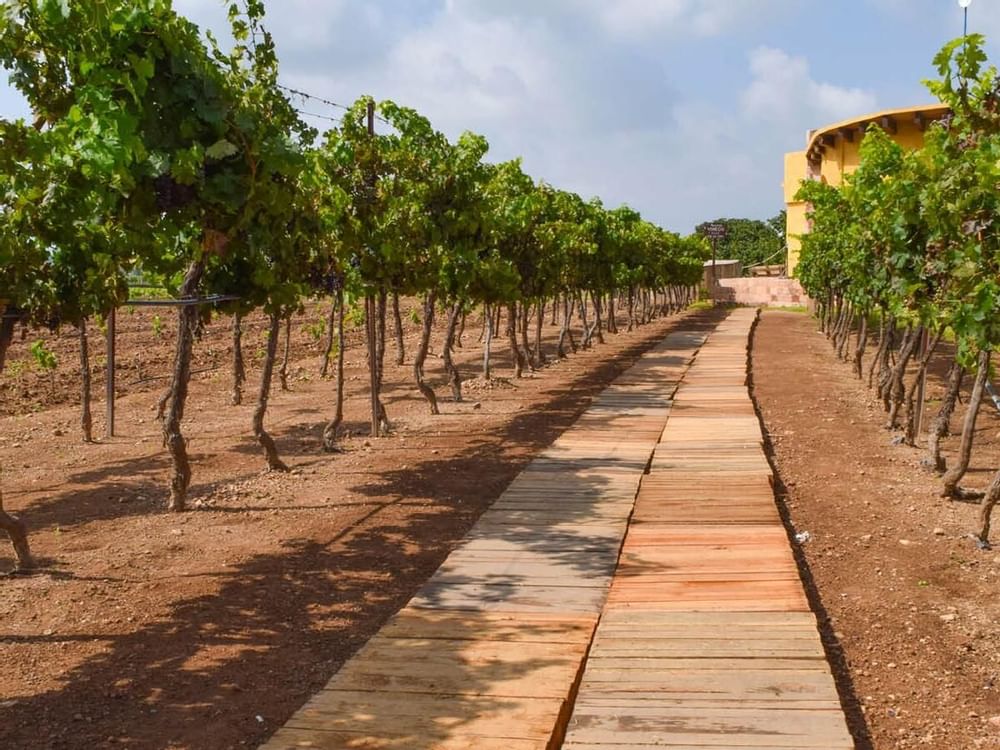 This vineyard is located in El Marqués, an area famous for its wine production, which was founded by the Spanish in the 16th century. Tastings and tours are offered.
Centro Histórico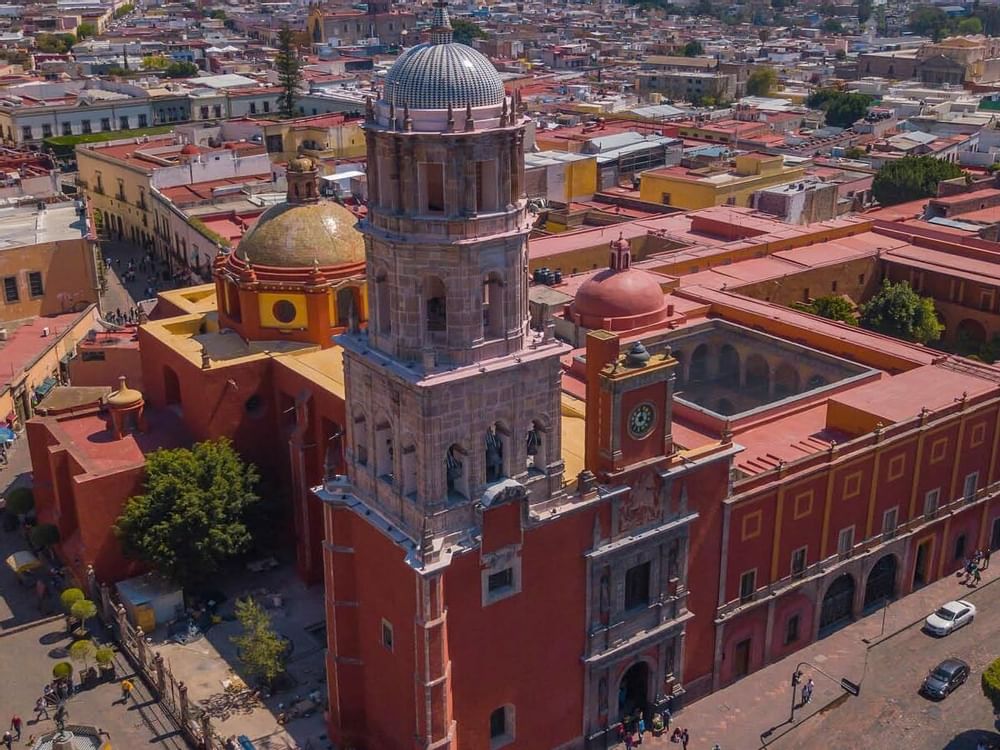 The charming colonial city of Querétaro features a preserved network of avenues laid out by the Spanish, with winding alleys and numerous baroque, civil and religious monuments from the 17th and 18th centuries.
Cañón del Paraíso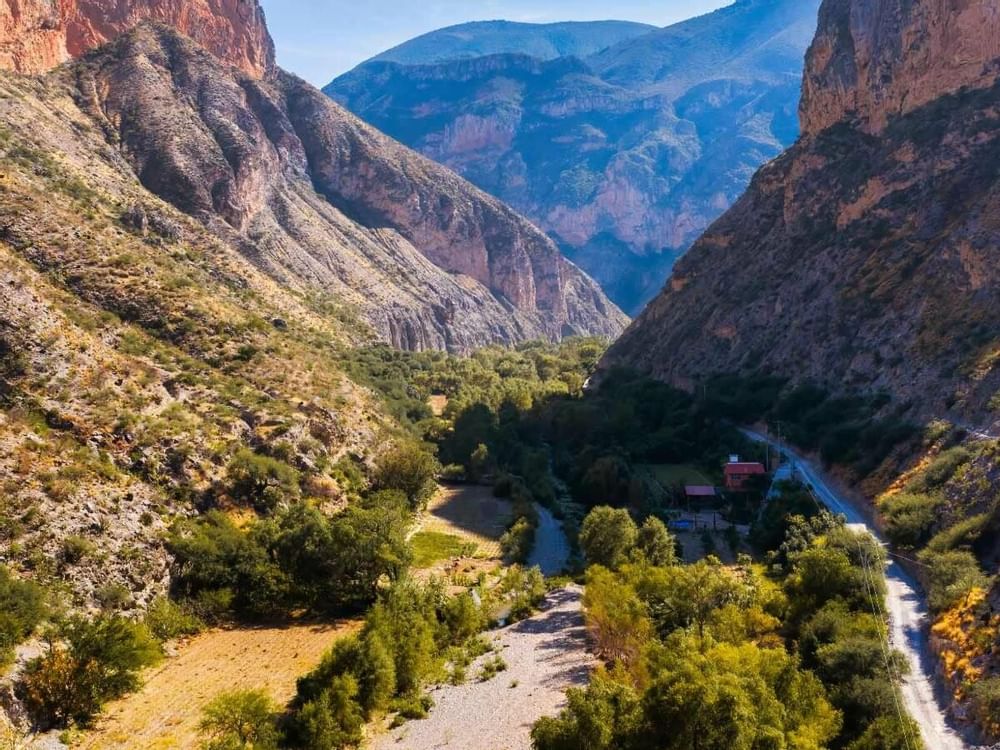 With canyon walls of solid black marble reaching a height of 330 feet, this natural wonder is a stunning setting for hiking and walking. Additional activities include kayaking, rock climbing and rappelling, camping and biking.
Puerta del Cielo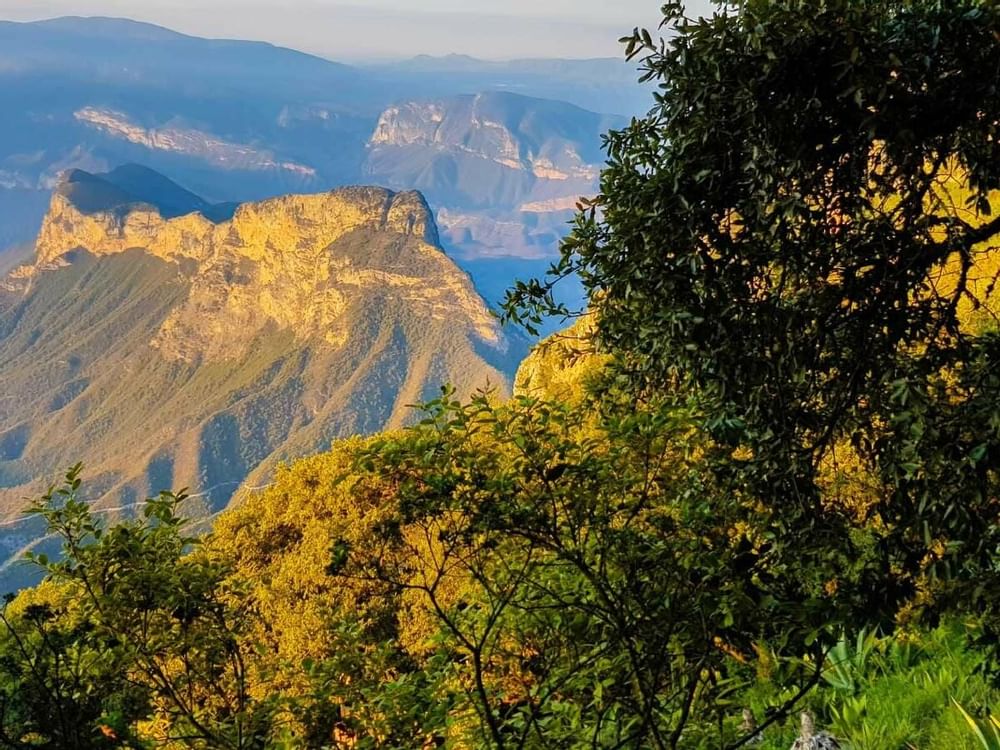 Translated in English to mean "Gate of Heaven," Puerta del Cielo is a pass formed by two imposing mountains framing a narrow road. Beyond, you will find mountains, rivers, waterfalls and picturesque towns.
Sierra Gorda Queretana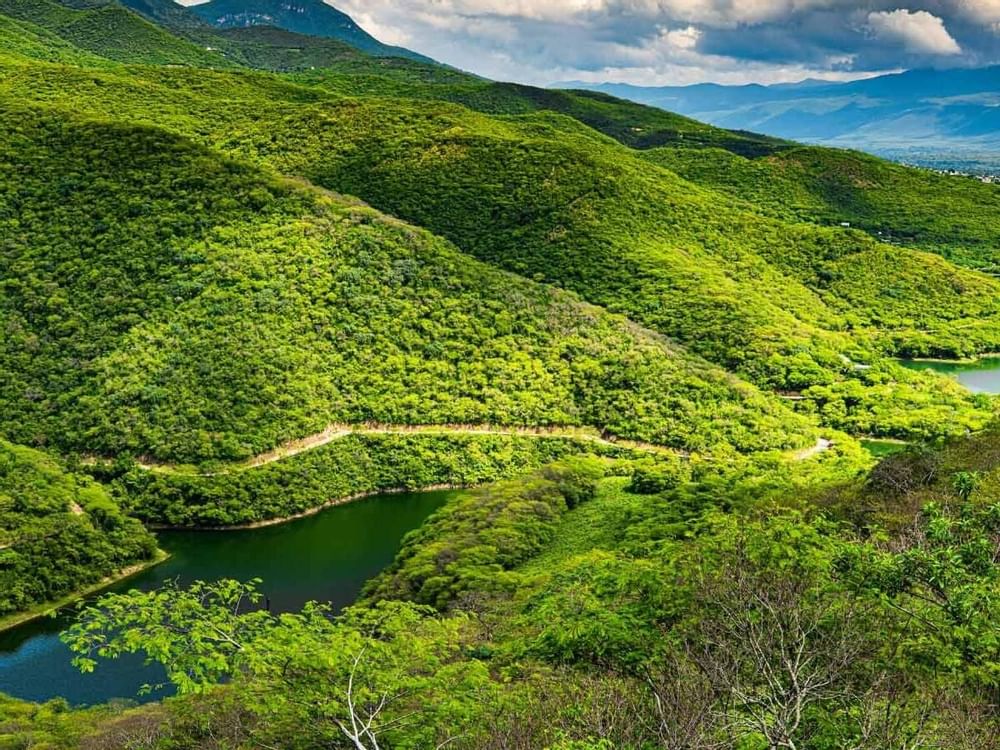 A region of stunning natural beauty set between massive mountains, flowing rivers, imposing waterfalls and scenic towns, this landscape is as close to paradise as you can get.
Hacienda La Laborcilla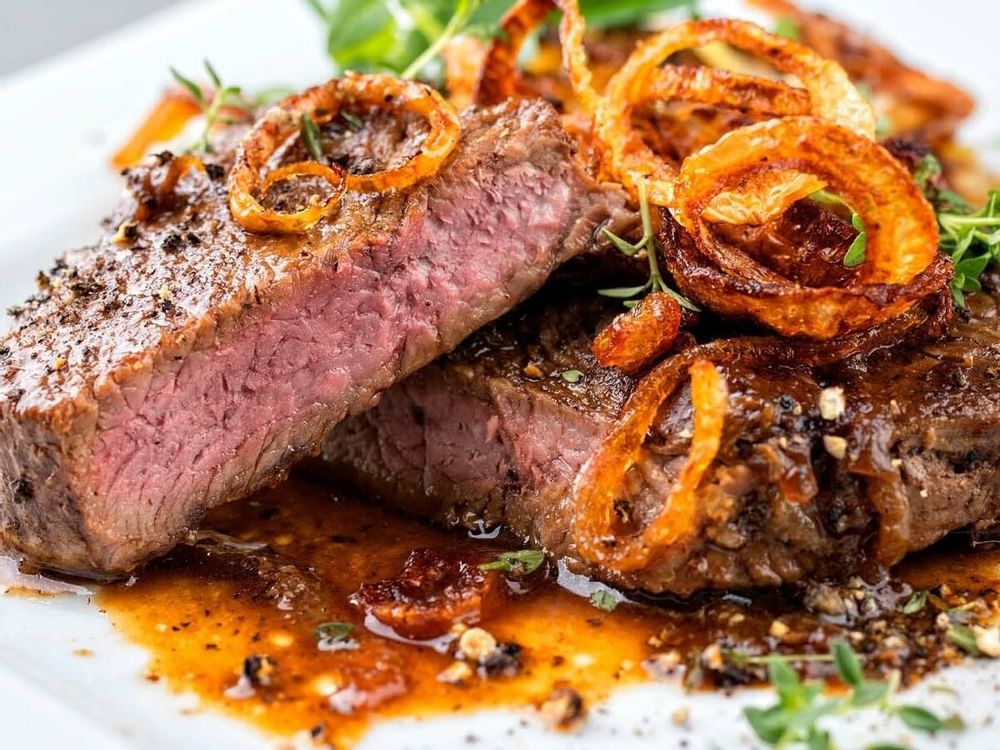 This upscale eatery is set in a magnificently restored 18th century hacienda featuring a garden courtyard with outdoor seating and a fountain. The interior dining area is home to authentic replicas of Roman, Hindu and Egyptian artwork displayed in the Louvre museum in Paris.
Cadereyta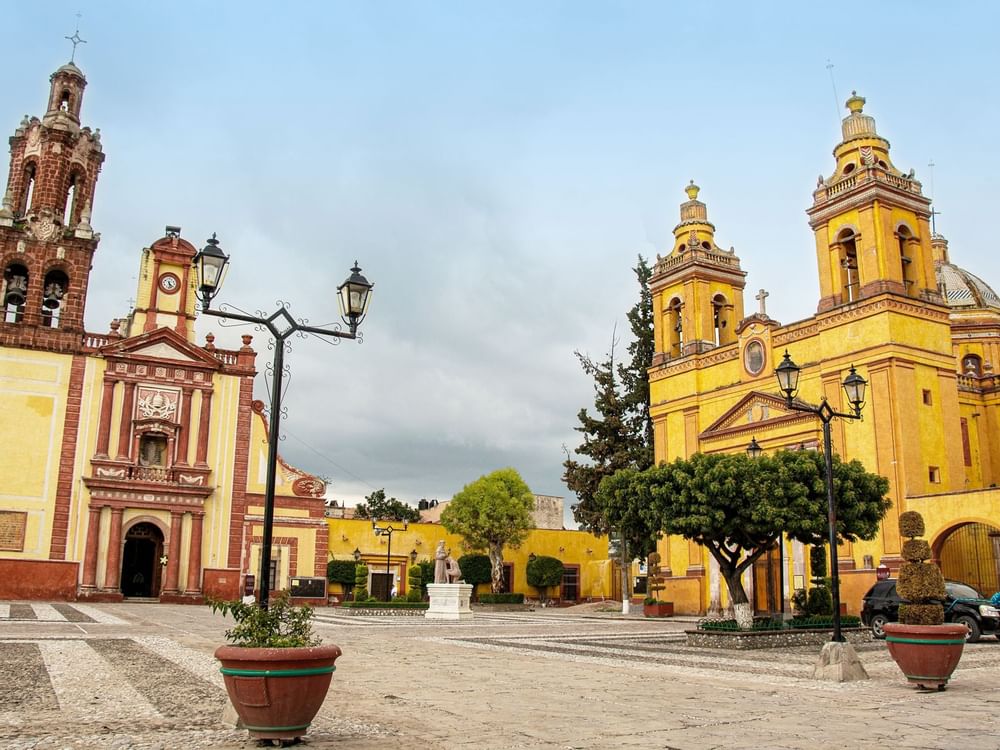 This historic town at the entrance to Sierra Gorda Queretana features beautiful colonial buildings and rich gastronomy, culture and traditions. In addition to sampling local restaurants, you can take long walks and visit the caves and archaeological sites just outside town.
Viaje en Globo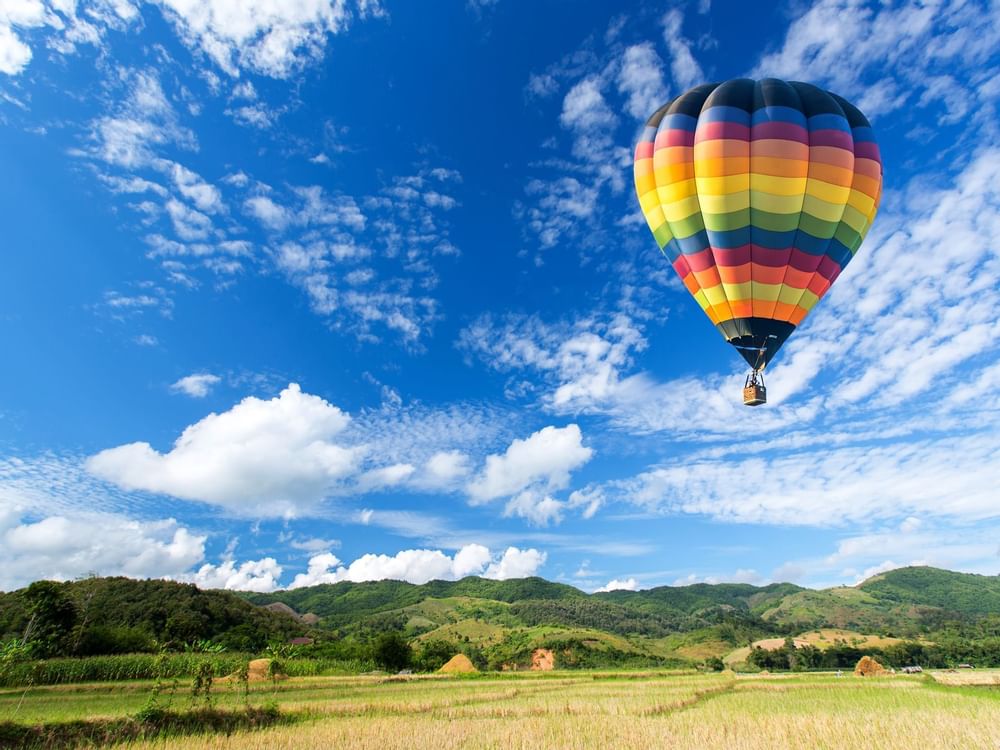 See the landscape from a breathtaking perspective with a hot air balloon ride over the rolling landscapes and vineyards of Tequisquiapan Querétaro. Select balloon rides include breakfast.
Fiesta Americana Hacienda Galindo Resort & Spa
Grand Fiesta Americana Querétaro